Akemi Dawn Bowman's debut Starfish is a colourfully painted, masterfully crafted YA contemporary about growing up biracial, fitting in, and what it means to have a place in this world.
I absolutely loved this novel. But before we dive into the review, take a look at the cover and blurb (from Goodreads): 
---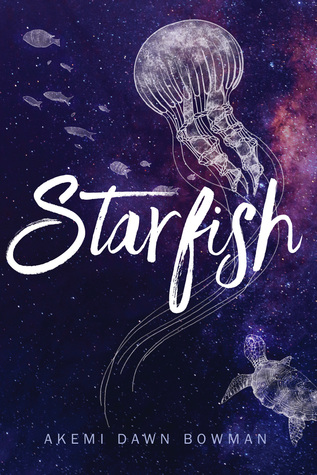 Kiko Himura has always had a hard time saying exactly what she's thinking. With a mother who makes her feel unremarkable and a half-Japanese heritage she doesn't quite understand, Kiko prefers to keep her head down, certain that once she makes it into her dream art school, Prism, her real life will begin.
But then Kiko doesn't get into Prism, at the same time her abusive uncle moves back in with her family. So when she receives an invitation from her childhood friend to leave her small town and tour art schools on the west coast, Kiko jumps at the opportunity in spite of the anxieties and fears that attempt to hold her back. And now that she is finally free to be her own person outside the constricting walls of her home life, Kiko learns life-changing truths about herself, her past, and how to be brave.
---
***I was provided an ARC from Indigo Teen in exchange for an honest review. This has in no way impacted my review.***
Starfish is one of those books you want to fly through in one sitting. Though I didn't get the chance to do that (*cough* school *cough*), I did end up reading over half of this novel in one night, just after I finished my final exam. I was so into this book, I didn't even realize how much of it I had read until I reached the very last page. It was an engrossing read from start to finish; I loved the diverse cast of characters, especially Kiko, and the realistic portrayal of social anxiety and what it's like to be caught between two worlds–and what that means when it comes to defining your own identity.
Of course, I absolutely loved the relationship that bloomed between Jamie and Kiko. It was perhaps my favourite part of this novel, outside of the exploration of strained family relationships and dynamics. I felt so bad for Kiko and what her family had become; I wasn't expecting this book to dive so deeply into hard-hitting topics, but it did, and Bowman did them justice beautifully.
The chapter endings–each ending in the character 'painting' something or dreaming about something, all in italics–were such an effective part of this book. Each 'drawing' or description of what Kiko would paint had such deep resonance with what just took place in the chapter. Sometimes, Kiko wouldn't draw anything at all, because she simply couldn't with everything going on around her. Those moments were painful, but they were so raw; I felt like I was truly seeing into Kiko's head.
Even the idea behind what it means to be a "starfish" was so intriguing and well-crafted. I loved the symbolism of the "starfish" and, of course, that gorgeous cover. I mean, how can you NOT love it?!
All in all, Starfish is an excellent YA contemporary that you must have on your radars. It releases today, September 26th, 2017. 
Have you read this one? If you have, let me know what you thought in the comments!
Thanks for reading, and until next time,
S&S