Hey, all! Welcome back to our blog. If you've kept up with our social media lately, you'll see that we've been so excited to read (and receive!) Sabaa Tahir's new book, A TORCH AGAINST THE NIGHT. It just released this past Tuesday, August 30. Way back last year, I (Sarena) won a giveaway from Indigo Teen on Twitter for an ARC of An Ember in the Ashes. That book quickly made its way to the top of my 2015 faves list — and the sequel is, shockingly, even better.
Here's the cover and synopsis: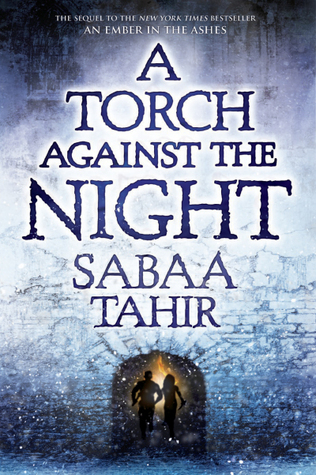 Elias and Laia are running for their lives.
After the events of the Fourth Trial, Martial soldiers hunt the two fugitives as they flee the city of Serra and undertake a perilous journey through the heart of the Empire.
Laia is determined to break into Kauf – the Empire's most secure and dangerous prison – to save her brother, who is the key to the Scholars' survival. And Elias is determined to help Laia succeed, even if it means giving up his last chance at freedom.
But dark forces, human and otherworldly, work against Laia and Elias. The pair must fight every step of the way to outsmart their enemies: the bloodthirsty Emperor Marcus, the merciless Commandant, the sadistic Warden of Kauf, and, most heartbreaking of all, Helene – Elias's former friend and the Empire's newest Blood Shrike.
Bound to Marcus's will, Helene faces a torturous mission of her own – one that might destroy her: find the traitor Elias Veturius and the Scholar slave who helped him escape… and kill them both.
---
TORCH was my most anticipated release of the year, so to get the ARC … (I essentially dropped everything to read it. Seriously.) If you're wondering, I won the book from the Indigo Book Preview on August 17. There was a trivia question to win both the first book in paperback and the ARC sequel. One of the Indigo staff members read out the first three lines of a YA book, and the first person to guess the book correctly would win. And, strangely enough, I can't believe I knew what book it was (The Selection by Kiera Cass).
Delving into TORCH about a year and a half after reading EMBER felt like coming back to a long-lost home. I loved Laia and Elias in the first book, and was really excited when I got to Helene's chapters. Her voice and personality is so different from the other two, and that's what really struck me (especially since she's the new Blood Shrike). I personally found her to be my favourite perspective in the book, simply because of what she went through. There was a lot of character development for her, which I really appreciated. I also liked seeing another side of Helene we never really knew in EMBER: seeing her family, the people she truly cares for. And also, getting an inside look at her feelings for Elias.
Elias continued to show strength and dominance despite Keris (the Commandant), and we got to learn more about Elias's past before he was adopted by Keris. Because Elias and Helene are both masks, violence was something they had to be indifferent to at Blackcliff, but I liked getting the more human aspects of them both. And his relationship with Laia … well, things get complicated. I don't want to spoil anything, but by the end, I'm still left wondering where everyone's hearts lie … and what they might do to protect those they love. That's really what the book centered on, and I loved the journey.
This book does, somewhat, fall under the category of a "travel book." Normally I don't like books that travel from place to place, usually without an end-goal. But TORCH does have an end-goal, and the journey never lets up in terms of action/adventure. Even though there was quite a bit of travelling, there was always a purpose for where they were, and what they were doing, and it all contributed to the overall growth arc for each main character.
I was also really happy to see characters from EMBER sneak back into this one, like Keenan, Cook, and Izzi. I definitely loved each of them and their role in this book, because they all really pushed Laia, Elias, and Helene to change, too–whether it was for the better, you'll have to read and find out!
Another aspect I enjoyed was the worldbuilding. I wished I had a map on hand while I was reading, because the Empire is pretty huge, and I loved learning more about the Tribes and the Martials and the Scholars, and what divided them all (and might unify them again …)
Though this book is YA, I definitely see crossover appeal for adults. It definitely read almost Game of Thrones-esque, but of course, much less graphic. Have you read this one yet? If not: please, please read it, because I need to talk to someone about certain things!)
Overall: Tahir weaves another incredible tale that perfectly balances character growth and deception, and of course, truth.
Rating: 5/5 stars
-S&S