Welcome to Manhattan 2118–a world where nothing is as it seems, and everyone has something to hide. THE THOUSANDTH FLOOR by Katharine McGee is the perfect read for fans of Gossip Girl, Pretty Little Liars, and anything sci-fi/futuristic. Before I get into my spoiler-free review, I'll post the (awesome) Goodreads synopsis and (UTTERLY GORGEOUS) cover down below!
---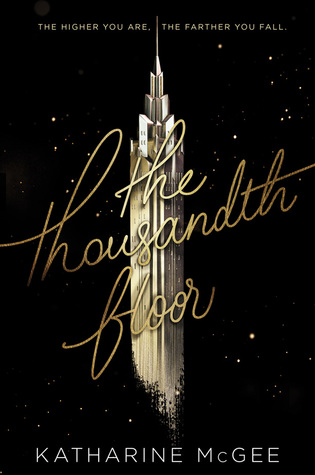 New York City as you've never seen it before. A thousand-story tower stretching into the sky. A glittering vision of the future, where anything is possible—if you want it enough.
Welcome to Manhattan, 2118.
A hundred years in the future, New York is a city of innovation and dreams. But people never change: everyone here wants something…and everyone has something to lose.
Leda Cole's flawless exterior belies a secret addiction—to a drug she never should have tried and a boy she never should have touched.
Eris Dodd-Radson's beautiful, carefree life falls to pieces when a heartbreaking betrayal tears her family apart.
Rylin Myers's job on one of the highest floors sweeps her into a world—and a romance—she never imagined…but will her new life cost Rylin her old one?
Watt Bakradi is a tech genius with a secret: he knows everything about everyone. But when he's hired to spy by an upper-floor girl, he finds himself caught up in a complicated web of lies.
And living above everyone else on the thousandth floor is Avery Fuller, the girl genetically designed to be perfect. The girl who seems to have it all—yet is tormented by the one thing she can never have.
Debut author Katharine McGee has created a breathtakingly original series filled with high-tech luxury and futuristic glamour, where the impossible feels just within reach. But in this world, the higher you go, the farther there is to fall….
---
***DISCLAIMER: We received an ARC of this book from the Indigo Book Preview event in Toronto; this has in no way impacted our review.
This novel follows 5 teens in a 3rd-person POV, who all have something to hide. First, living on the thousandth floor, is Avery Fuller. Avery is not your typical teen—she was genetically designed to be perfect. Flawless on the outside, but brimming with secrets on the inside. I quite liked Avery's perspective in this novel! She's complex and interesting, and kind of reminded me a bit of Aria from PLL (maybe it's just the A alliterations!). Though I thought her character might veer in one direction, she went the total opposite. Can't say much more than that, 'cause I want y'all to find out just what her secret is!
Next, there's Leda Cole. Leda's an ever-changing character in this story, and by the end of it, I was enthralled to see the character dynamics/actions she took throughout the story. One thing I really loved about this novel was all the dramatic irony. One character (i.e., Leda) would know something, but her BFF, Avery, wouldn't. It made for an intriguing read, and it was interesting to see how these characters unwrapped certain mysteries surrounding others.
Eris Dodd-Radson was one of the most unique characters in the novel. One thing I loved about her was that we got some LGBTQ+ representation—which kind of reminded me of another character from PLL: Emily!—in the novel. (Yay, diversity!) She went through some really tough hardships in this book, but I won't divulge what—that's for you to find out!
Watt Bakradi was one of my favourite characters in the novel. First off, he's the only male POV. Second, his family's Persian (so cool!) and third, he's got a computer-chip-thingy in his brain by the name of Nadia, who helps him know everyone's secrets. (Say whaaat? I know! So. Cool.)
And finally, there's Rylin Myers—another perspective I was particularly interested in, if only for the diverse elements and the blooming romance (which I totally loved!). Rylin was definitely interesting to read about, as she lives much lower in the Tower, meaning she's not "rich" or "high-up" like others (i.e., Avery and Leda).
The Tower itself was super interesting. I liked how the author interwove sci-fi/futuristic elements into this tower—i.e., each floor is almost a "street," and there's actual nature, and one of the floors has Central Park. There were also hovercars, eartennae, holos, and lots of other cool, futuristic items that worked well with the drama-esque story. The author balanced the two well, so that we almost got a "PLL in the future" vibe, in my opinion. A well-thought-out book with lots of mystery, drama, romance, and intrigue, all leading up to the ending—who is the girl who fell from the thousandth floor? I'll keep my lips zipped until you've read up to the final page!
This book releases TODAY, August 30th, 2016, so go grab a copy! I was lucky enough to snag an ARC at the Indigo Book Preview two weeks ago, and you can read all about that event when the recap's posted this week.
Until next time, readers!
-S&S