TGIF, bookish friends! Today we have some amazing news to share with you … and you've probably already guessed by the title of this post. And the *awesome news* (which we've already shared on Twitter, if you follow us over there –> @PendantTrilogy #shamelessselfpromo) is …
WE'RE #PitchWars 2016 MENTEES! Everyone, let's do a *happy dance*!
#PitchWars is basically an annual event for writers with polished manuscripts who are seeking representation. The decision to enter was a little … spontaneous. I just kept seeing people on Twitter talking about #PitchWars. Everything was #PitchWars, #PitchWars, #PITCHWARS. Finally, we knew. We knew we had to enter this contest–at least give it a try, seeing as having the opportunity to work with a mentor would be incredibly amazing. So, we entered the contest during the submission window in early August (we were able to submit to six mentors after winning a giveaway!), and the eve of August 25th (AKA, PitchWars Mentee Announcement Day), Brenda Drake gave us a little surprise!
Do you see our names on this *gorgeous* list? Look a little lower … lower … and stop! We're fifth from the bottom! Brenda Drake released the mentors' picks a DAY early (or night, rather). Our manuscript, A TASTE OF DARKNESS, was chosen by Stephanie Scott, whose YA novel ALTERATIONS releases from Bloomsbury Spark this October (!!!). We are SO excited to get to work with Stephanie, and make this novel rock. Congrats, also, to our fellow mentees–and of course, to  EVERYONE who submitted to this contest. There were approximately 2000 people who entered. Two thousand. That's mind-blowingly awesome. Seriously. Y'all should give yourselves a pat on the back–or better yet, buy yourself a shiny new book–for achieving something so amazing. Writing a book. 
Time and time again, I hear people saying "I wish I had the time to write a book." Well, you did. You got up, dusted off that ol' laptop, and decided to write a novel. And not just write one, but pursue revision, and further, possible representation from literary agents and book deals with publishers. A-may-zing.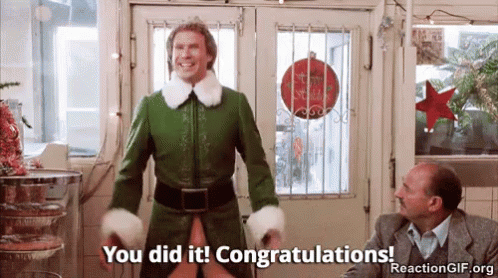 So if you're busy in the revision cave, or getting ready to start a shiny new project (hey, we are too! for both…), congrats. Congrats on writing a novel, and doing something that you're truly passionate about.
Thanks for reading this post, bloggers! We're so excited to see where #PitchWars takes us. Until next time,
-S&S