Have you ever read a novel with so much rich magic that it just sweeps you off your feet? Well, THE CROWN'S GAME did that for me. If you're interested in learning more about Evelyn Skye's debut novel, I've pasted the cover and Goodreads synopsis below:
---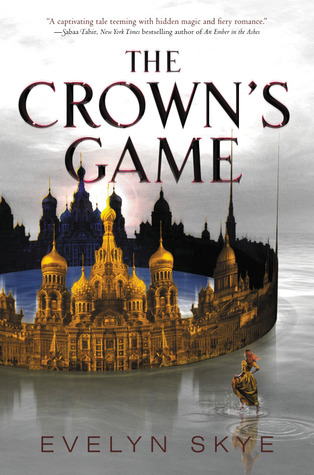 Vika Andreyeva can summon the snow and turn ash into gold. Nikolai Karimov can see through walls and conjure bridges out of thin air. They are enchanters—the only two in Russia—and with the Ottoman Empire and the Kazakhs threatening, the Tsar needs a powerful enchanter by his side.
And so he initiates the Crown's Game, an ancient duel of magical skill—the greatest test an enchanter will ever know. The victor becomes the Imperial Enchanter and the Tsar's most respected adviser. The defeated is sentenced to death.
Raised on tiny Ovchinin Island her whole life, Vika is eager for the chance to show off her talent in the grand capital of Saint Petersburg. But can she kill another enchanter—even when his magic calls to her like nothing else ever has?
For Nikolai, an orphan, the Crown's Game is the chance of a lifetime. But his deadly opponent is a force to be reckoned with—beautiful, whip smart, imaginative—and he can't stop thinking about her.
And when Pasha, Nikolai's best friend and heir to the throne, also starts to fall for the mysterious enchantress, Nikolai must defeat the girl they both love… or be killed himself.
As long-buried secrets emerge, threatening the future of the empire, it becomes dangerously clear… the Crown's Game is not one to lose.
---
**Disclaimer: I received an ARC from HarperCollins Canada. This has in no way affected or biased my review.**
"Imagine, and it shall be. There are no limits." — The Crown's Game by Evelyn Skye
THE CROWN'S GAME is an intriguing novel, to say the least. It's not always the most action-packed, and yet I  (Sasha) always felt invested in the book.This was one of my most anticipated debuts of 2016, and let me tell you, it did not disappoint. I'm just going to write everything I loved about this novel in a giant list, because lists are cool.
1. The characters. Vika, Nikolai, and Pasha all had intriguing story lines. I watched an interview with Evelyn, and she said this book had 10 POVs. Ten! That may seem like insanity, but in actuality, many characters had maybe only one or two chapters from their "POV" (I say this with quotation marks because the book is in third-person). Even with all the characters, nothing ever felt confusing. I understood everything easily. In fact, I felt like the surprise narrators added to the novel. All the characters were well-developed, but let's just say Pasha kind of stole my heart. (How can you not love a guy who loves to read?) If you want to learn more about the characters, I recommend you check out Evelyn Skye's character page on her website!
2. The magic. The magic in this book was honestly what kept me reading. Nikolai's magic, in my opinion, made his character more interesting. Vika's magic was explosive from the first chapter. A well-done magic system + interesting characters = major win for me.
3. The setting. I'll be honest, I don't know a lot about 1825 Russia, but I sure did understand those Napoleon references (heeeey, French Revolution). I loved the setting–it was perfect for the world, its magic, and its (beautiful) characters.
4. The narration/choice of POV. I appreciate how Evelyn decided to use third-person rather than first-person. I'm all for first-person, (heck, The Pendant Trilogy–shameless self promo–was written in first-person POV), but lately I've been appreciating third-person POVs more and more. Because they. Are. Tough. It is hard to pull of a 3rd-person POV and still be able to connect with the characters, but some authors have been able to pull it off (i.e., J.K. Rowling, Cassandra Clare, etc.). But not for a second did I feel like we weren't in these characters' heads. I thought the narration blended well with their thoughts, and overall, the POVs worked smoothly.
There wasn't much I didn't love about this book. It wasn't until little before I received the ARC that I learned it takes place in our world, just with a magical twist (which I love). It really separates it from books like SHADOW & BONE (which I also love).
I also appreciated all the food/baked goods references made in the book (they pleased the foodie in me). The last 100 or so pages of the book were full of super explosive, non-stop, heart-pounding scenes. I couldn't BELIEVE what was happening–or that last line. This book left me in a serious book hangover, if not one of my WORST book hangovers ever. 
Sure, the fact that this book can be seen as having a "love triangle" is a little annoying, but that didn't necessarily detract my enjoyment from the novel, because there was no "1 girl with no agency + 2 guys pining after her," but rather "1 girl with agency, and 2 guys who happen to love her." Even Vika and Nikolai's relationship could be seen as *slightly* insta-love-y, but I thought Skye did a good job of crafting the relationship and "love" as something more plausible in the 1800s.
Evelyn Skye has crafted a richly imagined, well-thought-out novel bursting with magic, romance, and intrigue. I absolutely loved it.
WHAT'S MY RATING? 
5/5 CROWNS (aka stars) 
The Crown's Game goes on sale May 17th, 2016. Thank you, HarperCollins Canada, for providing me with an ARC!
-S&S