Hey, everyone! Today we're sharing a review for an upcoming contemporary novel: THE UNEXPECTED EVERYTHING by Morgan Matson. Having read and enjoyed Matson's previous novel, SINCE YOU'VE BEEN GONE, I was really excited to receive the ARC for this book thanks to Simon & Schuster Canada.
First, here's the synopsis and (awesome) cover, and then we'll get into the review: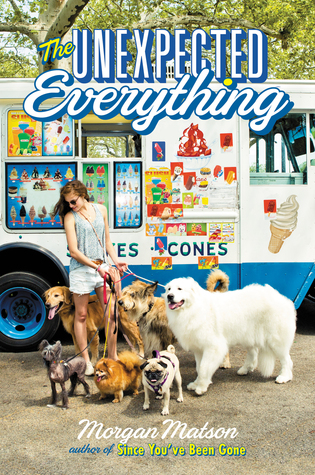 Andie had it all planned out.
When you are a politician's daughter who's pretty much raised yourself, you learn everything can be planned or spun, or both. Especially your future.
Important internship? Check.
Amazing friends? Check.
Guys? Check (as long as we're talking no more than three weeks)
But that was before the scandal. Before having to be in the same house with her dad. Before walking an insane number of dogs. That was before Clark and those few months that might change her whole life.
Because here's the thing – if everything's planned out, you can never find the unexpected.
And where's the fun in that?
---
**Disclaimer: I received the ARC from Simon & Schuster Canada. This has in no way biased or affected my review.**
I normally don't read contemporary novels, though I really enjoyed SINCE YOU'VE BEEN GONE, which was why I wanted to pick up THE UNEXPECTED EVERYTHING. One thing I love about this book is the title: it completely reflects the content of the book. There are so many unexpected elements to it, which I loved.
First, I'm going to try and summarize my feelings in emojis (if you've read the book, you'll understand why; if not, the book features a lot of emojis, which I loved!)
What I loved:
This book featured a lot of different relationships: father-daughter, friendship, romantic. I think what I enjoyed most is the way in which Matson handles these relationships with so much truth. I found myself having to put down the book at certain moments (in a good way). I certainly wasn't sure what to expect with the father-daughter relationship at the start of the book, especially with the scandal; but I loved how the dynamics really evolved over the course of the novel, and Andie's feelings felt real. Her anger, her resentment–everything felt relatable. I also enjoyed the way the book explored Andie's relationship with her late mother. Family dynamics are not often discussed in YA, and I'm glad I had the chance to read a book in which family is paramount.
I also really, really loved Clark. I think the first time I ever labelled any character a book boyfriend, it was Frank from Since You've Been Gone. I might have to say I love Clark even more, for *reasons* that are quite spoiler-y. On the non-spoiler side, though, he is super nerdy and cute.
The Dogs
Next: I really, really loved the dogs. I'm not even much of a dog-lover in real life, though I was completely taken aback but how might I enjoyed the walking-dogs sub-plot in the novel. It plays a crucial role in bringing Andie and Clark together, and I really felt like it added to the summer-y tone of the novel.
The Bookish Element
Another thing I really enjoyed about the book was the bookish element. At regular intervals, including at the very start, there are excerpts from various (fake) fantasy novels. At first I wasn't sure what the reason for that was, but I really enjoyed the way these excerpts tied in to the novel. It also added to my love of a certain character … which will probably not make sense unless you've read it 🙂
The Friendship
I'm pretty sure this emoji is meant to represent twins, though two characters in the novel–Bri and Toby–are practically inseparable best friends. I really enjoyed how this novel deftly dealt with friendship issues, particularly with the ending which felt very honest and real. (And Toby's love for emojis is awesome.)
Connections to SYBG
Another aspect of this novel I loved was the connection to SYBG. If you haven't read the book, you would probably not understand the whole list/Captain Pizza references, though it felt like finding a hidden treasure for those who have read it.
What's My Rating?
Seeing how I wholly enjoyed this book, I'm giving it 4.5/5 stars. It was a surprisingly great read, and I think I enjoyed it more than SINCE YOU'VE BEEN GONE! The only issue I had was with the writing. Sometimes the narrator would use several clichés throughout the novel that detracted from my enjoyment, though I hope these might be fixed since I was reading the ARC. (And one of my writing courses made me create a list of 100 clichés I had heard/seen over a one-week period, so my cliché detector is on high!)
I hope you pick this one up soon! It goes on sale May 3, 2016. Thanks again, Simon & Schuster Canada, for the ARC!
-S&S