Today we're back with a review for a brand-new YA book hitting shelves this Tuesday! It's called BEYOND THE RED by Ava Jae. And let me tell you–I loved it. Here's the synopsis for a bit of background info before we get into the review!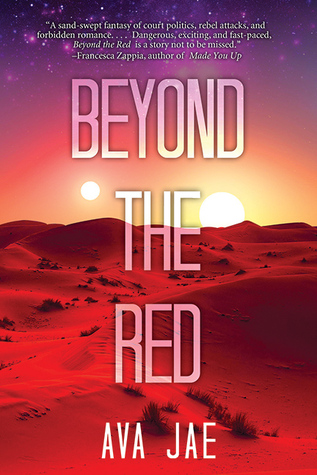 Alien queen Kora has a problem as vast as the endless crimson deserts. She's the first female ruler of her territory in generations, but her people are rioting and call for her violent younger twin brother to take the throne. Despite assassination attempts, a mounting uprising of nomadic human rebels, and pressure to find a mate to help her rule, she's determined to protect her people from her brother's would-be tyrannical rule.
Eros is a rebel soldier hated by aliens and human alike for being a half-blood. Yet that doesn't stop him from defending his people, at least until Kora's soldiers raze his camp and take him captive. He's given an ultimatum: be an enslaved bodyguard to Kora, or be executed for his true identity—a secret kept even from him.
When Kora and Eros are framed for the attempted assassination of her betrothed, they flee. Their only chance of survival is to turn themselves in to the high court, where revealing Eros's secret could mean a swift public execution. But when they uncover a violent plot to end the human insurgency, they must find a way to work together to prevent genocide.
**Disclaimer: I downloaded the eARC from Edelweiss, thanks to Sky Pony Press. This has in no way affected or biased my review.
"I am surrounded on all sides by waves of beautiful red sand. By a cloudless violet sky, and blazing orange and red suns, four ghostly moons, and not a single differentiating marker in any direction …" –Beyond the Red
When this book was first announced, I believe it was considered NA sci-fi. NA, new adult, typically features college-aged characters and a bit more mature content that YA novels. Now, the book is being marketed as upper YA. I agree with that decision because it makes the book much more marketable in the YA sphere, and the book itself also read a lot like YA, save for certain scenes, which pass for upper YA. (That was just a brief ramble before I get into what I loved!)
This book was seriously amazing. I read it soon after I had watched the new Stars Wars movie, and this book really kept me on that Star Wars high! If you pick this up and read the first page, you'll get what I mean. The book flips perspectives between Eros, a half-blood, and Kora, the alien queen. I really enjoyed each perspective because they were distinct. I loved getting to know more about each of them, and I grew very attached to their characters.
Another thing I loved was setting. Wow. I absolutely loved the descriptions–and just from the cover alone, I can still feel the red, hot sand on my skin. The two suns were also epic. Like guys. If you love anything sci-fi, especially in space, you NEED this book. The cover really does a good job of displaying the setting, but the writing, too, is especially vivid.
Another thing I enjoyed were the layers of politics and hatred of half-bloods woven into romance. Forbidden romance is great–but with aliens? YES. This book had so many great scenes that truly had me shipping some, and not others. (Plus, there's an LGBTQ relationship, too!)
About halfway through the book a new character is revealed named Serek. I won't reveal too much about him, but I really did like his character, despite certain things that happen at the end … I found myself putting down my tablet in favour of internally screaming. I love when an author can make me feel that way about their books. It means I was really connected with the characters and the world. I also really like the mythology woven into the story with Kala. The world(s) almost reflected real political and religious systems of our own world. If anything, I think the reader should be aware that a lot of the action and "genocide/fleeing" takes place from here onward. So going into it, there is a lot of action, but the plot of being "framed" doesn't really come in until later.
Warning: there is a HUGE cliffhanger, which made me think there is a sequel, but according to the author, that depends on sales. I truly hope we can get a Beyond the Red #2!
Rating: 5/5 suns
… see what I did there 😀
Recommended for:
-Fans of Star Wars
-anything alien-related, like V, or sci-fi in space, like Firefly 
Have you picked this one up? It hits shelves March 1, 2016, from Sky Pony Press.
-S&S