Hey everyone! It's time for another Waiting on Wednesday, a meme hosted by Jill at Breaking the Spine. Today we're going to feature a book we've been hotly anticipating for a while now. I (Sarena) read THE WRATH AND THE DAWN as an audiobook in May 2015. Sasha recently finished reading the physical copy a few days ago–so we thought this book, the sequel, would be the perfect pick!
By the way, if you haven't read TWatD, pick it up! It totally lives up to the hype. And though it doesn't have a ton of fantasy or magic, Sasha thinks there's way more than people give credit for. (I personally can't remember a ton of details, esp. bc it was an audiobook! Good thing I have Sasha to refresh me before THE ROSE AND THE DAGGER!)
Here's the beautiful cover and synopsis: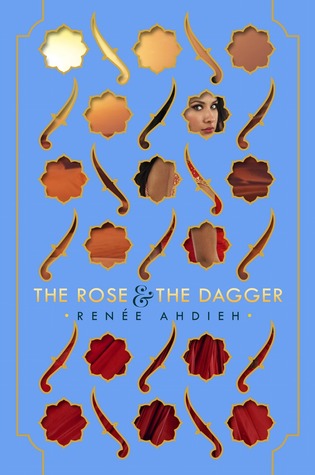 I am surrounded on all sides by a desert. A guest, in a prison of sand and sun. My family is here. And I do not know whom I can trust.

In a land on the brink of war, Shahrzad has been torn from the love of her husband Khalid, the Caliph of Khorasan. She once believed him a monster, but his secrets revealed a man tormented by guilt and a powerful curse—one that might keep them apart forever. Reunited with her family, who have taken refuge with enemies of Khalid, and Tariq, her childhood sweetheart, she should be happy. But Tariq now commands forces set on destroying Khalid's empire. Shahrzad is almost a prisoner caught between loyalties to people she loves. But she refuses to be a pawn and devises a plan.
While her father, Jahandar, continues to play with magical forces he doesn't yet understand, Shahrzad tries to uncover powers that may lie dormant within her. With the help of a tattered old carpet and a tempestuous but sage young man, Shahrzad will attempt to break the curse and reunite with her one true love.
Synopsis taken from Goodreads.
---
I can imagine the endpapers on this one will also have the girl on the cover, much like WRATH. It's stunning and totally captures the synopsis. From what we can tell, we hope it'll be a great sequel.
This book releases May 3, 2016, from Putnam/Penguin Random House.
Are you guys looking forward to this one? Until next time,
S&S