Hey, everyone! Today we're back with a new review post for Sophie Jordan's next YA fantasy duology: Reign of Shadows!
Here's the cover and synopsis: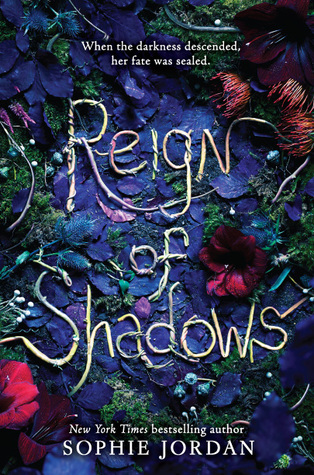 Seventeen years ago, an eclipse cloaked the kingdom of Relhok in perpetual darkness. In the chaos, an evil chancellor murdered the king and queen and seized their throne. Luna, Relhok's lost princess, has been hiding in a tower ever since. Luna's survival depends on the world believing she is dead.
But that doesn't stop Luna from wanting more. When she meets Fowler, a mysterious archer braving the woods outside her tower, Luna is drawn to him despite the risk. When the tower is attacked, Luna and Fowler escape together. But this world of darkness is more treacherous than Luna ever realized.
With every threat stacked against them, Luna and Fowler find solace in each other. But with secrets still unspoken between them, falling in love might be their most dangerous journey yet.
With lush writing and a star–crossed romance, Reign of Shadows is Sophie Jordan at her best.
---
**Disclaimer: I received the ARC for review from HarperCollins Canada in exchange for my honest opinion. This has in no way impacted my final review of the book.
 "There was a hard edge to his voice that made something inside me wither away with the realization that this world could bend and twist people into things even they didn't want to be. That perhaps I was destined to change whether I wished it or not." — Reign of Shadows
I honestly feel like this book and its events are hard to describe, and the synopsis does a solid job of explaining things–but there is so much MORE. The atmosphere. Luna (and her capabilities … I won't divulge anything, because I found that such a great twist). The dark dwellers. The Outside. I believe the author said the book is partially inspired by Rapunzel, and I loved that comparison. (I wish it were present in the synopsis.) The novel is heavily focused on themes of restriction, both mentally and physically. Luna has hardly ever stepped outside her tower; and the Outside is a much darker place than it seems.
My favourite aspect of this book was definitely the Outside and the dark dwellers. They were a constant threat, a constant parallel to the dark past of both Fowler and Luna. At times, I could see parallels between REIGN OF SHADOWS and other YA fantasy tropes: girl lives alone/orphaned/poor in fantasy world, discovers she has some sort of royal bloodline, etc. (This reminded me a lot of RED QUEEN, although in Mare's case she is not actually royalty.) Jordan both strayed and clung to that thread: Luna is the heir to the throne, though I liked the fact that she rejected this part of her life. She'd come to welcome her tower and her guardians, and by the end of the book she's undergone some major growth.
I also particularly liked Fowler's chapters–he's funny and romantic, but at the same time, the insta-love was a bit of a turn off. In some ways, I could see it less as insta-love and more as an infatuation or curiousness on Luna's part, considering she's [spoiler redacted]. But by the end, I was glad that Fowler had managed to find love in a place that seemed cold and empty, especially because of the way his last relationship ended.
From a writer's perspective, I'd love to go back to the beginning and read the way in which Jordan wrote Luna's character. It isn't until about 60 pages that you discover something about her, and I think the author handled this very well! I'd love to see the techniques she used to evade making this "discovery" obvious.
If there was anything I needed MORE of, it was the darkness. The creatures. I loved the action scenes toward the end, especially with Digger. He was basically introduced at the very end of the book but I could imagine how *awesome* the book would be if he was always present. How cool would that be? (Kind of like the daemons in The Golden Compass!)
Warning: there's a major cliffhanger, but I love cliffhangers 🙂
Rating: 4/5
Recommended for:
-Fans of RED QUEEN by Victoria Aveyard
-Anything with a darker world + romance, like THE MURDER COMPLEX duology by Lindsay Cummings
-S&S