HELLO! Today we wanted to make a fun GIF-filled post on being authors and book bloggers. So without futher ado, here's what it's like…
You wake up, check your email, like a bunch of blog posts and comment on your faves. Yay for #Commenting365, right?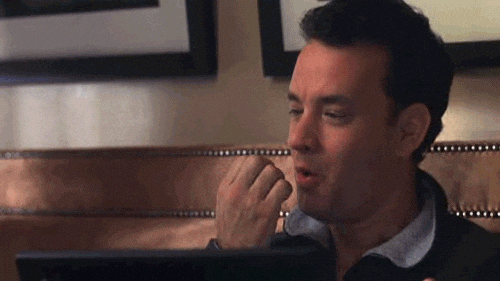 Then you go out to the real world (haha.. ha… you know, that thing called "school") and you go to class. Talk to someone. Make friendly conversation. You ask them, What's your current read? They say, Oh, I don't read. Yeah… not talking to that person again.
You come home. Then you think: what do I want to do today? Get some writing done? Maybe schedule a few blog posts?
Then you finally decide! HUZZAH! It's the perfect choice–the best of both worlds! Reading!
Then your mind starts to drift off. You wonder … should I be writing? Should I be writing a blog post? And then suddenly you look like this:
You finally finish that week-late biology assignment (woops!). You pick up your book… only to realize you should be writing. The words come slowly … you think about them for a while… and BAM! You've got an idea!
All the words start flowing out, and you realized you've accidentally skipped dinner … woops, don't do that, kids. So you eat, eat, eat, maybe squeeze in some TV time, and then you hit the twitters.
And that's basically it. Minus some crying and eating and wondering "WHAT AM I WRITING?" Yeah. It's part of the process.
What's your day for you like? (Bloggers? Authors? HYBRIDS? :D)
-S&S