Welcome back! Today I (Sarena) am reviewing a new MG book that released last week: UNDER THEIR SKIN by MP Haddix! Haddix is one of my favourite authors, and so to have read the ARC of UtS was a really special experience.
Here's the cover and synopsis: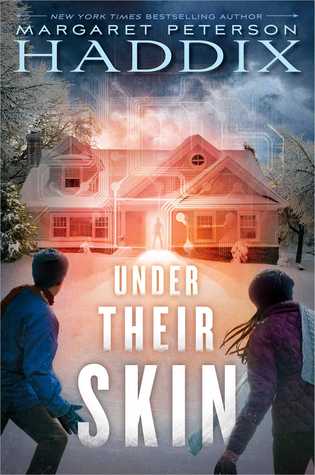 From New York Times bestselling author Margaret Peterson Haddix comes the first book in a brand-new thrilling series about twins who are on a quest to discover the secrets being kept by their new family.
Nick and Eryn's mom is getting remarried, and the twelve-year-old twins are skeptical when she tells them their lives won't change much. Well, yes, they will have to move. And they will have a new stepfather, stepbrother, and stepsister. But Mom tells them not to worry. They won't ever have to meet their stepsiblings.
This news puzzles Nick and Eryn, so the twins set out on a mission to find out who these kids are – and why they're being kept hidden.
---
**Disclaimer: I received this book for review from Simon & Schuster Canada. This has in no way impacted/biased my review. (Thank you, S&S!)
I picked up this book just after receiving it from S&S Canada. I KNEW I had to read this one straight away since it had just come out, and also … TWINS. YES.
I just recently finished another book by the same author (book 7 in the Missing series: REVEALED) and found a lot of similarities, but also many differences. What I love most about the Missing is the use of time travel and also the many characters with unique voices: Jonah, Katherine, Chip. I also found that REVEALED is much more complex, specifically because of time travel and its implications. This book had very simple writing that I found would suit a lower Middle Grade reading level. I typically go for "upper MG" since those suit my tastes a bit better. This book also often reminded me of the sort of plot I would find in GOOSEBUMPS, which my sister loves. Minus the horror, of course.
What I enjoyed most was the way Haddix dealt with the human experience. It is obvious this book is not just mystery but has a sci-fi/fantasy counterpart to it as well (which I won't divulge because, well, spoilers!). I think the whole mystery aspect was the most engaging for me because a) I love mystery; and b) the synopsis is quite vague, so the reader is generally asking all the same questions our main characters are. What's up with the twins' parents? What's the deal with Ava and Jackson?
I liked how MP Haddix simply but also intricately wove a story that might appeal to a much younger audience, but also speaks to adulthood and human existence as something adults might discuss in their day-to-day lives. I found myself flipping the pages very quickly, and by the time I was just over halfway through the book, most of the vagueness is clearly stripped away and the true conflict is revealed.
I really can't speak about the twist without spoiling anyone, so I won't. All I can say is this twist reminded me far too much of another book. The twist was nearly identical. I feel like this might've taken away from my reading experience, especially because that other book is meant for an older audience and discusses human nature in much greater detail. This book, however, doesn't go very deep into the explanation (understandable–science-y explanations can feel like an overload). Overall, I think this was an enjoyable novel, and if I were in sixth or seventh grade I think I would've loved this. However, having read some of Haddix's other novels, I think I can say that I enjoyed the Missing series much more.
Rating: 3.5/5 (rounded to 4 on Goodreads)
Recommended for lovers of:
Goosebumps by RL Stine
MiNRS by Kevin Sylvester (based on concept)
-S&S