So I (Sasha) just finished Frozen Tides recently, at 12:30 am, and let's just say… I was in shock.
This book was SO. GOOD. So, naturally, today I decided to write a spoiler-free review for you all. If you haven't picked up this series–what are you doing? Go pick it up! It's full of twists and turns you seriously don't want to miss out on, especially if you're a YA fantasy lover like me. I've pasted the cover and spoiler-filled synopsis from Goodreads below.
---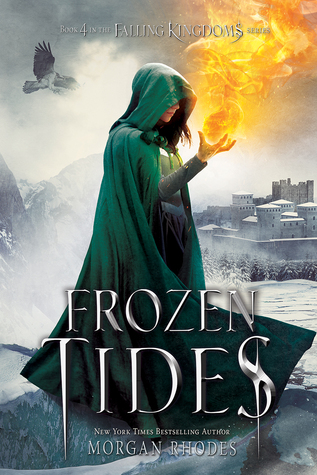 Rebels, royals, and monsters wage war over the Mytican throne in the shocking fourth book of the Falling Kingdoms series, from New York Times bestselling author Morgan Rhodes.
CLEO: Reeling after a bloody showdown in Limeros ending with Amara's abduction of the water crystal, and a vacancy in the Mytican throne, Princess Cleo must cast aside her feelings and look toward her kingdom with the eyes of a Queen.
MAGNUS: With the kingdom in chaos, Princess Lucia still missing and quite possibly in danger, and a shocking realization about Cleo, the steely prince is once again torn between love and duty, leaving him wondering whether he's strong enough to rule his people.
LUCIA: The young sorcercess has had her vengeance after the cruel death of her first and only love. Heartbroken and unable to trust anyone, she allies with the awoken Fire god, who also seeks revenge.
JONAS: After escaping death by the skin of his teeth, the defeated rebel—along with a mysterious stranger–leader reunites with Princess Cleo, only to find himself a mere pawn in a dangerous hunt for the elusive Kindred.
KING GAIUS: Abandoned by Melenia and betrayed by his own children, Gaius flees Mytica and sails to Kraeshia, where he attempts to ally with the famously brutal emperor across the Silver Sea.
---
If you haven't read my reviews for Falling Kingdoms, Rebel Spring, or Gathering Darkness yet, you can read them all first if you'd like to get my opinions on those before you read this one. (None of these reviews contain spoilers.)
I tend to break down these reviews based on character and general thoughts, so let's begin with those.
First, general thoughts: this book was great. I didn't expect anything less from Rhodes, who seems to always keep me on my toes. I also liked that this book has an updated map, with the distant land we learned about called Kraeshia. (Kraeshia was one of the things I loved to read about most in this book.) She seamlessly weaves together multiple POVs that are never dull, never boring. At points, I even rooted for the more evil/morally-grey characters. Like, whoa. That NEVER happens unless I know a little bit about their motives. So, without further ado, let's go through each main character (or at least the ones with POVs in this novel!).
CLEO: Cleo was, once again, awesome. I honestly don't think she had all that much going on in this book until the second half–that's where things really picked up for me, both character-wise and plot-wise. But what did happen at the end with a certain someone was just. plain. perfection. And the cliffhanger that we were left on (her last chapter) with Cleo… NOT. COOL. You're saying I must wait 11 months for an answer?! *sighs*
MAGNUS: When do I not love Magnus? Okay, the first two books don't count. Ever since Gathering Darkness, I love Magnus. Even still, he wasn't, in my opinion, a large focus for some parts of this book. Which can be kind of sad because he's my FAVE, but at the same time, I was happy Rhodes paid attention to other characters and let their stories shine too.
JONAS: I LOVED JONAS IN THIS BOOK! If you asked me if I loved him in GD, I probably would've shrugged. But now? Love, love, love. I thought he was a solid focus in this book, and I loved the growing relationships he formed. Also: I need answers about him now, too. Pretty please, Morgan. 😉
LUCIA: Lucia was quite interesting in this book, I had to say. I didn't necessarily agree with all her decisions (until the end), but I do think she had major character growth and I'm tempted to see where we go with her in the future! (Also, I love that she's on the cover of this book!)
There were some other characters like Felix, who I also couldn't help but fall in love with (see a pattern growing here?) even though I detested him by the end of book 3. Yeah, this series does that to you. Love to hate, hate to love. You never know what you're going to get.
And then there's Amara, one of those morally-grey characters I mentioned earlier. I LOVED HER TOO. I wouldn't say all of her actions are agreeable, but … I sympathized with her. And that's saying something, considering all that she's done.
This book was quite a fantastic installment, and I must say my favourite in the series. These books get better and better. I didn't think this book was better than book 3 for at least the first half of this book, but by the end of it … I was floored. I couldn't BELIEVE what had happened: the betrayal, the deceit, the DEATH.
If you haven't read this book, you're in for a treat. Let me know if you've read this one, or any other books by Morgan Rhodes, in the comments below! 🙂
Rating: 5/5
-S&S