Hey, all! Today we'll be reviewing TRUTHWITCH by Susan Dennard. Below is the (beautiful) cover and synopsis from Goodreads:
---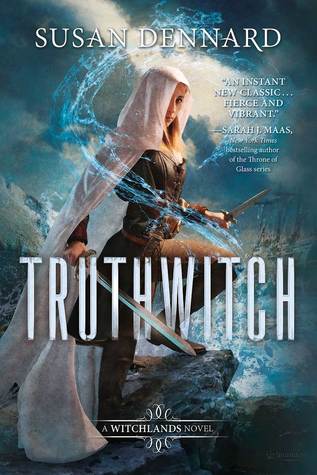 On a continent ruled by three empires, some are born with a "witchery", a magical skill that sets them apart from others.
In the Witchlands, there are almost as many types of magic as there are ways to get in trouble—as two desperate young women know all too well.
Safiya is a Truthwitch, able to discern truth from lie. It's a powerful magic that many would kill to have on their side, especially amongst the nobility to which Safi was born. So Safi must keep her gift hidden, lest she be used as a pawn in the struggle between empires.
Iseult, a Threadwitch, can see the invisible ties that bind and entangle the lives around her—but she cannot see the bonds that touch her own heart. Her unlikely friendship with Safi has taken her from life as an outcast into one of reckless adventure, where she is a cool, wary balance to Safi's hotheaded impulsiveness.
Safi and Iseult just want to be free to live their own lives, but war is coming to the Witchlands. With the help of the cunning Prince Merik (a Windwitch and ship's captain) and the hindrance of a Bloodwitch bent on revenge, the friends must fight emperors, princes, and mercenaries alike, who will stop at nothing to get their hands on a Truthwitch.
---
We were lucky enough that our blogger friend Nova lent us her ARC copy (so thanks, Nova!). TRUTHWITCH is a brand-new high fantasy book, the first in a four-book series, that releases January 5, 2016. This book has it all: an awesome premise that's pitched as "Avatar: The Last Airbender meets Garth Nix," so what's not to love?
Well, for us, we were beyond excited. The book has been super hyped on Twitter, especially with the different clans. However, for me (Sarena) I didn't get into the world straight away. I was pretty confused by the way the world itself worked (without the synopsis I don't even think I'd understand, and I'm still a bit confused). The hype was both good and bad: bad, because I was expecting more, and good because it helped me remember the different clans (based on elements: air, water, earth, fire, and other–aether). I'm still not quite sure how I figured out Aether because it wasn't explained.
This book was promising. It has, at the core, a strong pair of friends who are perfect foils for one another. However, we only truly connected to one of them: Iseult. We felt that sometimes she was overshadowed by Safi; that she would do anything for her, risk her life, and yet Safi was still more important: the princess, the domna. Iseult's backstory is quite tragic, and we ended up feeling bad for her most of the time, wishing she could be happier. That said, we still really liked how their friendship was the main point of the story, not the romance. Nowadays a lot of YA fantasies are focused on romance, and we loved that this one put the friendship first.
Ah, the romance. We're a little conflicted on this. On the one hand, the blooming romance in this book was slow-burning, and thus more enjoyable than something insta-love-y. HOWEVER, we just didn't care for either of the characters in the romantic relationship, and though sometimes they were both witty, and we understood why they liked one another (and sometimes hated), we weren't all that invested.
And then there's Aeduan. The Bloodwitch. Oh, the Bloodwitch. We loved the rotating perspectives, and Susan Dennard does so a lot of justice to these characters with her 3rd person POV, but Aeduan was NOT one of our fave characters. He is "evil," though he is nowhere near as cool as villains in comparative books (such as Manon from the Throne of Glass series, who we adore!). Aeduan was a flat character. Boring. There was nothing exciting about him until the end.
As for the world-building, the world is certainly there, and it is well depicted, but there simply wasn't any EXPLANATION. We are thrust into the fantasy world as if we're expected to know how witchery, etc. works. I found myself wishing for more depth, more culture from this world, but I didn't get any of it.
Now, don't get us wrong: Truthwitch is still a good read. It has some awesome elements that reminded us of Avatar: The Last Airbender. We really liked the sea foxes, and of course, one of the main characters, Iseult. But other than that, the story fell a little flat for how hyped it's been over the past year.
Would we recommend Truthwitch? It seems most people enjoy this book, so sure. We'll definitely continue the series, hoping that the world becomes more fleshed out and that the characters' motives become clearer. The end of this book was definitely intriguing and left us on a semi-cliffhanger, so we need to find out what happens next.
I have read and loved SOMETHING STRANGE AND DEADLY, so to not entirely love this one was a bit disappointing. Of course, there's always the next book!
Rating: 3.25/5 stars
-S&S