Time for another review! This one's all about Sona Charaipotra and Dhonielle Clayton's debut release, TINY PRETTY THINGS. Here's the cover and synopsis from Goodreads:
---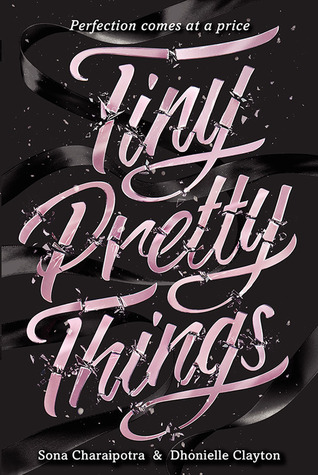 Black Swan meets Pretty Little Liars in this soapy, drama-packed novel featuring diverse characters who will do anything to be the prima at their elite ballet school.
Gigi, Bette, and June, three top students at an exclusive Manhattan ballet school, have seen their fair share of drama. Free-spirited new girl Gigi just wants to dance—but the very act might kill her. Privileged New Yorker Bette's desire to escape the shadow of her ballet star sister brings out a dangerous edge in her. And perfectionist June needs to land a lead role this year or her controlling mother will put an end to her dancing dreams forever. When every dancer is both friend and foe, the girls will sacrifice, manipulate, and backstab to be the best of the best.
---
You might be wondering: we don't read many contemporary books! On the contrary, we like revenge, drama, thriller-type YA contemp. So when we saw this book being compared to PLL, we knew we had to have it.
This book didn't disappoint. Two of the main characters, Bette and June, were downright awful (at least in the beginning) and we felt so bad for Gigi. She was definitely our favourite character in the novel from beginning to end, even with the major character development by the last few pages…
Another thing we liked was the diversity. Both the authors are POC, and 2/3 main characters (POVs) are POC, too. 😀
Let's start with Bette: she's the typical "mean" girl at the academy, but I like that we get her perspective because she has more depth/development than we'd expected. I really like how the book opened up with Cassie's perspective as opposed to Bette; I like looking at Bette from another perspective before getting to know her true personality in the first chapter. Bette ended up really changing over the book, and she had quite a bit of adversity to overcome. At the same time, though she's definitely an enjoyable character to read about, she's not very likeable.
June: We both really liked June. We were surprised by her past (won't say anything on that–too spoilery!) but we really liked how her heritage played a great role in the novel. The authors certainly didn't hold back when it came to issues in this book–weight/bulimia, particularly, for June. It made her so much more complex and REAL. And at the end, we sympathized a lot more with her. And that brings us to our favourite of three perspectives …
Gigi: She's the new girl and soon-to-be golden girl. We loved how she was written. Diversity plays a HUGE role in this novel, and we liked that Gigi had her own depth and complexities … and issues we never once expected! Won't let that slip, but we both really liked Gigi's growth, with her own issues as well as the blooming romance. (aaahhh) *heart eyes*
This book was a quick read, especially for fans of the BURN FOR BURN trilogy (which we reviewed HERE). We enjoyed the romance aspects too, and we both agreed the second half of the novel was better than the first. In the beginning, the backstabbing was a bit on the lighter side, we think. In the second half, things started getting serious, and everything led to an epic cliffhanger in the last few pages. The writing was very clean and we loved all the fragmented sentences, the poetic prose. 😀
If this book didn't have a sequel, we would've been really confused and probably wouldn't have liked it as much, but thank goodness there is one! It's called SHINY BROKEN PIECES and releases July 2016.
Rating: 5 stars
Have any of you read this book? Leave your thoughts in the comments below!