Hey, everyone! Welcome to another Waiting on Wednesday hosted by Jill at Breaking the Spine. This week we wanted to feature a book we're SO excited for–or at least I (Sasha) am, and that's THE RAVEN KING by Maggie Stiefvater. Here's the cover and synopsis for this book! (Without spoilers.)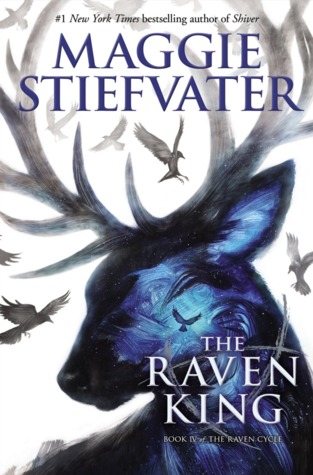 The fourth and final installment in the spellbinding series from the irrepressible, #1 New York Times bestselling author Maggie Stiefvater.
All her life, Blue has been warned that she will cause her true love's death. She doesn't believe in true love and never thought this would be a problem, but as her life becomes caught up in the strange and sinister world of the Raven Boys, she's not so sure anymore.
In a starred review for Blue Lily, Lily Blue, Kirkus Reviews declared: "Expect this truly one-of-a-kind series to come to a thundering close."
This cover is GLORIOUS. At first, I thought it was kind of strange: what is this deer/stag thing supposed to represent? Is this Harry Potter? But now I think it looks awesome. I also love the colour scheme. Hopefully the spine is more purple than blue. 😀
Sadly, this book doesn't release until April 26, 2016–but guess what? That's the day after our exams finish (woohoo!) which means this book is the perfect post-exam treat and start to the summer. Unfortunately, that's still quite far away.
What are you waiting for this Wednesday? Until next time,
-S&S