October is a month full of monsters and ghouls, creepy crawly things, and best of all, HALLOWEEN! So what's better than relaxing with a creepy book that's filled with something even scarier than all the things listed above? A MADNESS SO DISCREET by Mindy McGinnis is a YA historical thriller about a girl who's mentally insane. Yeah. Get ready to be creeped out (in a good way). Here's the cover and synopsis from Goodreads:
---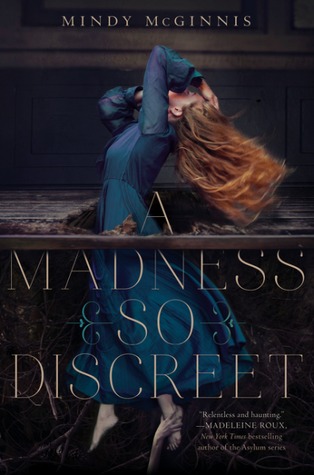 Grace Mae knows madness.
She keeps it locked away, along with her voice, trapped deep inside a brilliant mind that cannot forget horrific family secrets. Those secrets, along with the bulge in her belly, land her in a Boston insane asylum.
When her voice returns in a burst of violence, Grace is banished to the dark cellars, where her mind is discovered by a visiting doctor who dabbles in the new study of criminal psychology. With her keen eyes and sharp memory, Grace will make the perfect assistant at crime scenes. Escaping from Boston to the safety of an ethical Ohio asylum, Grace finds friendship and hope, hints of a life she should have had. But gruesome nights bring Grace and the doctor into the circle of a killer who stalks young women. Grace, continuing to operate under the cloak of madness, must hunt a murderer while she confronts the demons in her own past.
In this beautifully twisted historical thriller, Mindy McGinnis, acclaimed author of Not a Drop to Drink and In a Handful of Dust, explores the fine line between sanity and insanity, good and evil—and the madness that exists in all of us.
---
**Disclaimer: We received this book for review from HarperCollins Canada in exchange for our honest opinion. This has in no way impacted our final review of the book.**
A MADNESS SO DISCREET is a fun, quick read. We thoroughly enjoyed this novel, although we do admit it wasn't the craziest thrill ride–or psychological thriller, for that matter–that we were hoping for. Nevertheless, this book was still full of crazy, weird characters and dark, creepy places. We also thought the main character, Grace, was a bit unreliable–she was crazy and she knew it, which only made us question whether she truly knew her own sanity. Especially with what happened at the end of the book. That was some crazy stuff!! (Even though Sasha did guess one of the 'plot twists.'*)
*We put plot twists in quotation marks because we don't really think this book was full of twists you'll find in books like GONE GIRL, BEFORE I GO TO SLEEP, or any other adult thriller. This book is YA, but we do think this could translate as a great read for adults as well.
To continue, we thought the writing in this book was exquisite. The dialogue of the characters firmly ground us into the historical time period of the novel (1890). And the fact that it took place in an asylum in the 1800s, with all their old/primitive ways of thinking (phrenology, etc) only made the book more nightmare-inducing.
However, we do think this book's cover is actually creepier than its content. You won't find anyone grabbing someone else's bare foot and dragging them down. However, it is good symbolism for Grace's madness, and how she's spiralled into her own grave mental health conditions.
The title is also very fitting for this novel. As we were reading it, we were constantly reminded of the theme of a hidden sort of madness; something that's deeper than face-value.
Overall, though this isn't the scariest YA book you'll come across, or with the most action, it's a great fit for October. We highly recommend you check it out!
Rating: 4/5 stars
We're looking forward to doing a bookish photoshoot with this book and possibly a few others! Stay tuned! 😀
-S&S