HELLO! Today I (Sasha) will be reviewing A COURT OF THORNS AND ROSES by the wonderfully talented Sarah J. Maas. I will admit this is not my favourite of her books (what could be after Queen of Shadows?) but I still really enjoyed it. Here's the cover and synopsis from Goodreads:
---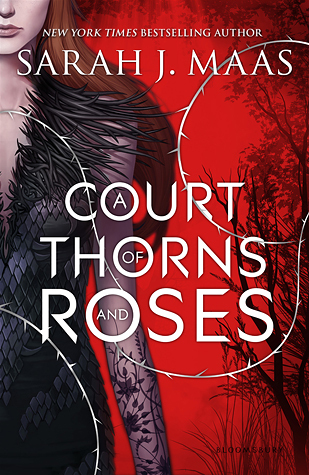 A thrilling, seductive new series from New York Times bestselling author Sarah J. Maas, blending Beauty and the Beast with faerie lore.
When nineteen-year-old huntress Feyre kills a wolf in the woods, a beast-like creature arrives to demand retribution for it. Dragged to a treacherous magical land she only knows about from legends, Feyre discovers that her captor is not an animal, but Tamlin—one of the lethal, immortal faeries who once ruled their world.
As she dwells on his estate, her feelings for Tamlin transform from icy hostility into a fiery passion that burns through every lie and warning she's been told about the beautiful, dangerous world of the Fae. But an ancient, wicked shadow grows over the faerie lands, and Feyre must find a way to stop it… or doom Tamlin—and his world—forever.
Perfect for fans of Kristin Cashore and George R. R. Martin, this first book in a sexy and action-packed new series is impossible to put down!
---
ACOTAR was full of surprises. I really enjoyed this book, but I don't know if I liked it more than Throne of Glass. I LOVED ToG, but this one feels so different. It's technically more NA (New Adult) than it is YA. It felt fresh to read something I'd never read before (I've never read a NA book). I also liked that this book had a Beauty-and-the-Beast spin to it.
The atmosphere in this book was also very different from the Throne of Glass books. It felt more mature, and even sometimes a bit darker when things about the 'shadow' and the 'blight' (the disease that has spread through the Spring Court) were mentioned. I really enjoyed this aspect of the story. The world was also really easy to grasp in comparison those like the Throne of Glass world.
Another thing I really liked was the characters. I really liked Feyre, but it took some time for me to completely warm up to her, even though I liked her from the start. I also really liked Tamlin, though I feel the same way about Tamlin as I do with Feyre. I especially liked these characters together; the romance in this book was beautiful and it didn't feel insta-love-y. However, I wouldn't say I love love love them like I love Celaena and Dorian, but that's another series.
This book was stuffed with plot twists and riddles and lots of fun stuff, although I will admit there were a few slow parts (though the pacing overall was fantastic!). It was also dark at times and very serious. I wouldn't recommend this for extremely young readers, especially because of the romance which was definitely more mature than what we read in the Throne of Glass series. But I do believe fans of that series will like this one too!
Now, let's talk about Rhysand. Oh, Rhysand. He is one complicated dude. I knew he wouldn't be introduced until the 200-pg mark, and when I started this book I kept thinking I would be super excited when he was introduced; that I'd love his character, maybe more than Tamlin (who in the beginning of this book I wasn't loving. I warmed up to him when his and Feyre's relationship really grew around the 150-230pg mark). However, I found Rhysand (for most of this book) to be foul, loathsome, and cruel. By the time he was finally introduced, I was too invested in Feyre and Tamlin's relationship to care. But then… something happened. A spark, you could say. Around 40 pages before the end of the novel, his character began to make SENSE. It was exactly what I wanted out of him! I told myself: maybe you really like Feyre and Tamlin together, but Rhysand … Rhysand is one interesting guy. By the end of the novel, I infinitely liked him waaay more than I did when he was first introduced. I'm not saying he's the best of characters, or that he's my favourite, or that I even think he's a good guy, but I LIKE him now. A lot. As you can plainly see, I spent an entire (very long) paragraph talking about him. He's cool now, okay?
Those were my thoughts on ACOTAR. I overall thought it was a super enjoyable novel, with an easy-to-understand world and likeable characters.
I rated this book a 4.5/5 stars.
-S&S