Welcome back, readers! Today I (Sarena) am reviewing an awesome new YA book that I was lucky enough to get my hands on early!
Here's the cover and synopsis: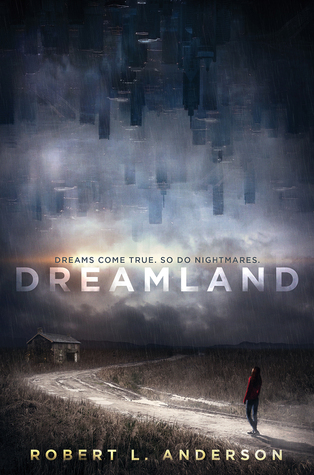 Odea Donahue has been able to travel through people's dreams since she was six years old. Her mother taught her the three rules of walking: Never interfere. Never be seen. Never walk the same person's dream more than once. Dea has never questioned her mother, not about the rules, not about the clocks or the mirrors, not about moving from place to place to be one step ahead of the unseen monsters that Dea's mother is certain are right behind them.
Then a mysterious new boy, Connor, comes to town and Dea finally starts to feel normal. As Connor breaks down the walls that she's had up for so long, he gets closer to learning her secret. For the first time she wonders if that's so bad. But when Dea breaks the rules, the boundary between worlds begins to deteriorate. How can she know what's real and what's not?
---
Disclaimer: I received this book for review from HarperCollins Canada in exchange for my honest opinion. This has in no way impacted my final review of the book.
When I picked up this book, I didn't really have any idea of what to expect. The cover to me had always been intriguing (one of the reasons I wanted to read the ARC!) but I still wasn't sure how "dark" this book would actually be. But I think this book completely caught me by surprise–it was dark, lush, creepy, and magical!
Let's start with Dea, our MC. She was a pretty solid main character to me–especially because she was flawed and relatable. (Maybe not relatable in that she can walk dreams. But how cool is that?) When I started the book and first met Gollum (she's awesome and her nickname is, too), I thought this book felt a lot like a contemporary novel. Going to school, mean classmates, etc.
Then Connor comes into the story–and I'll admit, when I read the synopsis, I really, REALLY hoped he wouldn't be an immediate "love interest". I prefer romance in books to take a backseat to the character's growth, rather than the MC relying on another person for their own growth.
In a way, he wasn't, which I liked. I think the book started to take a much darker turn about 100 pages in. And let me say, this is exactly when the story peaked my interest. I LOVED the nightmare scenes; they were so well-written and certainly made me make a face or two in disgust. Creepy scenes ftw!
Another thing I loved was the rules for walking dreams. Never interfere. Never be seen. Never walk the same person's dream more than once.
The dream sequences were certainly one of my favourite parts of the book. The author really put a lot of thought into explaining how Dea enters the dream, and how birds (harbingers) can lead her out. At this point I felt the story was a lot more paranormal than it was fantasy (though it is a subgenre) and I was wondering if the author's label of "dark fantasy" rang true. But nonetheless, the story had me completed sucked in.
I don't want to mention any spoilers, but there was a MAJOR twist in the story that I did not see coming. I had always wondered about Dea's mother/father, and I'm glad we got some strong explanations for their backstories. About 250 pages in, the whole "fantasy" element really came to life. In a way, I felt it happened too quickly. Sometimes the book felt like a mishmash of genres–contemporary in the beginning, paranormal, then fantasy, then mystery. But I still really enjoyed Dea's journey throughout the whole novel, and the ending was suitable for the story. (Yay, Connor!) Will there be another book?? I hope so! I want to see where Dea's journey goes next!
Overall, a really strong debut from author Robert L. Anderson. I'll certainly be looking out for more of his work.
Rating: 4 stars
Have you picked up Dreamland? It comes out September 22 from HarperTeen! (Thanks, Harper, for letting me read this one early!) 😀
-S&S