Welcome back! Today I (Sarena) am reviewing the final book in The Game Trilogy, CRASH. Here's the cover and synopsis. (The synopsis IS spoilery if you haven't read the previous book. If you want to skip the synopsis, the review is below the horizontal line.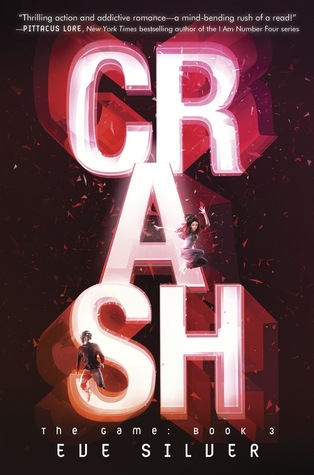 A thrilling action/suspense novel for fans of The Fifth Wave about contemporary teens pulled in and out of an alternate reality where battling aliens is more than a game—it's life and death.
Miki's life is falling apart around her. Her dad and best friend are lying in the hospital. The Game is glitching, making missions more frequent and more deadly. And someone close to her is waiting for the right moment to betray her.
Miki feels like she's hanging on by a thread and the only thing keeping her tethered is Jackson's hand in hers. Yet telling him how much she needs him, how much she loves him, feels like the biggest challenge of all. And if Miki really wants the missions to end for everyone, she'll have to let go and be ready to fight when the walls between the Game and reality come crashing down. Because if there's one thing she's learned, it's that she's got a whole lot left to lose.
Crash is the pulse-pounding conclusion to the Game trilogy fans won't want to miss.
---
Here is my review for RUSH and PUSH!
I was SO excited to start CRASH when I picked it up. I read both RUSH and PUSH last summer, so I wasn't totally refreshed on what happened. But thankfully EpicReads had a great recap of the series so far. (Also, the covers for these books are AMAZING. I love them all!)
CRASH was a much more emotional book than the previous two. Something I'd truly admired about The Game Trilogy was the action aspect of the "game" Miki enters whenever she's pulled into a mission.
Another thing I'd always admired about Miki was her determination, even among her anxiety and depression. I think that's something I really liked about her personal journey, even among fighting the Drau and other possible enemies.
This book took quite a turn in terms of who the enemy "really was." I found myself a bit confused by the Committee's decisions (which I will not say here because spoilers!) and how they played out. I wish the explanation for the whole game itself was a little clearer. In the end, though, I was confident Miki had changed as a person through the game, and thus, her life.
As always, Jackson–insert heart eye emoji–was amazing. Funny, spunky, even among the other team members. I liked the mystery aspect with his sister Lizzie, and of course, Luka. I think those helped push the book forward, because most of the time, Miki is either fighting Drau or stays at the hospital. (Which is understandable.)
If there's one thing I'd wanted, it was more of an epic finale. Maybe I'm just too used to high-fantasy end-of-the-world-as-we-know-it stakes (which there kind of were in this book!). I felt as though this book was much more of an emotional trek for Miki than it was a save-everyone type of finale. This was a good decision on the author's part, because in retrospect, I really think Miki's journey through mental health and helping her dad reflected her journey with the Drau.
Overall, I really did enjoy this book and read it in a few days. The writing was definitely a unique, full-fleshed aspect of this book. So lyrical!
There were a few aspects I found not-so-satisfying, some questions I needed answering. (I'm still a bit puzzled over Lizzie and the Committee.) But I'm happy Miki broke through her own mental barriers (as well as physical ones!) 😀
Rating: 4.5 stars
Favourite quotes:
"We deserve this moment, and the only way we get to have it is if we take it."
"Her grief scrapes away the too-thin scab over my own."
"We're the buildings that sway, not the ones that collapse."
Psst, you should check out Eve's post about aliens on EpicReads!
Until next time,
S&S