Hey all! It's Sasha, and today I'll be reviewing A BOOK OF SPIRITS AND THIEVES (ABOSAT for short) by Morgan Rhodes! (This is a NON-SPOILER review!) In case you didn't know, this is the first book in the Falling Kingdoms spin-off trilogy, and it was AWESOME. We were lucky enough to actually meet the author at the book launch for this book and get our copy signed (plus a ton of awesome swag). I'll provide a Goodreads synopsis down below so you can decide if you'd like to read it for yourself!
---
Modern-day sisters discover deadly ancient magic in book 1 of this Falling Kingdoms spin-off series!
Worlds collide in this suspenseful, page-turning Falling Kingdoms spin-off series, which explores a whole new side of Mytica—and an even darker version of its magic.
Crystal Hatcher, Modern-day Toronto: It's a normal afternoon in her mother's antique bookshop when Crys witnesses the unthinkable: her little sister Becca collapses into a coma after becoming mesmerized by a mysterious book written in an unrecognizable language.
Maddox Corso, Ancient Mytica: Maddox Corso doesn't think much of it when he spots an unfamiliar girl in his small village. Until, that is, he realizes that she is a spirit, and he is the only one who can see or hear her. Her name is Becca Hatcher, and she needs Maddox to help get her home.
Farrell Grayson, Modern-day Toronto: Rich and aimless Farrell Grayson is thrilled when the mysterious leader of the ultra-secret Hawkspear Society invites him into the fold. But when he learns exactly what he has to do to prove himself, Farrell starts to question everything he thought he knew about family, loyalty, and himself….
Fate has brought these young people together, but ancient magic threatens to rip them apart.
---
Okay, so this book was great. It was full of magic AND contemporary elements–something you don't see often, especially since this book still involves a high fantasy world. If you haven't read the Falling Kingdoms series by Morgan Rhodes yet, then I highly suggest you read that series FIRST before reading this one! You'll be able to notice a lot of connections, and the world will be a little more fleshed out, especially since there's no map in this book. (However, it doesn't matter which you read first, because though the two intertwine world-wise, the events that take place in Mytica in this series happen 1000 years before anything that happens in Falling Kingdoms.)
Let's go character by character just like how I reviewed the rest of the Falling Kingdoms series (FK, RB, GD) , and I'll explain why I did and/or didn't like them!
First, CRYSTAL. She lives in Toronto (finally somewhere Canadian!) with her family where they run a bookshop. One day her sister Becca opens up a magical book and is somehow transported to the ancient world of Mytica. Crystal learns a lot about magic in this book, but I won't delve into the specifics, since we're keeping this non-spoilery. But I will say that I quite enjoyed her character, but I wouldn't say I LOVE her. I enjoyed her growth throughout the novel, however, and am very excited to see how things play out for her in the rest of the series.
Second, FARRELL. He's your typical rich guy who basically has all the money in the world because of his elite family. Farrell is a part this society in Toronto called the "Hawkspear society"–emphasis on the hawk aspect, if you know what I mean. (You would know what I'm getting at if you've read Falling Kingdoms.) I didn't care for him in the beginning, and then about 60 pages in, he became so much more interesting. Not that he's necessarily a good guy for, well, reasons. But by the end of the book I have conflicted feelings on his character. I kind of think of him as the Magnus of the series, as in, I started out not hating Magnus but not caring for him either, then I ended up hating him, then I ended up loving him. Let's hope that latter part works out with Farrell, because I am most definitely NOT loving him at this point. (I do think he's quite funny, though!)
Finally, MADDOX. He's the only main character who's from Mytica. He reminded me a lot of Jonas from the Falling Kingdoms series. They seem to have parallels in the way the act/think. However, they're very different in the sense that Maddox has very special–possibly even unheard of–magic. I really like how his character played out in the novel. With every plot twist coming to fruition at the end, I cannot wait to read more from his perspective in Mytica.
Besides the characters, I liked all the connections to the Falling Kingdoms world. At this point in Mytica's history, goddess Valoria reigns in the north, while Cleiona reigns in the south. Stories of the two goddesses are mentioned countlessly throughout FK, and I was very happy to see lots of intertwining connections there.
There were a lot of shocking moments toward the end of the novel. I wouldn't say this book necessarily ended on a HUGE cliffhanger (at least I don't categorize it as a HUGE one) but it's a cliffhanger nonetheless. I just have to know what will happen to these characters and how their stories will pan out within the next two books. I'm hoping we see even more connections to FK and hopefully there will be more shocking reveals!
Of course, this book didn't finish without a few deaths, as is Morgan Rhodes' signature thing to do in all her YA novels. (Why, Morgan, why!) But overall, I really enjoyed this book. It was funny, had lots of spunk, and was highly enjoyable. I particularly loved the Toronto atmosphere–she made it come to life, and as someone who lives near Toronto, I loved reading about places I've been to time and time again. It made everything feel so much more special!
I rated this book a 4.5/5 stars. I liked it more then FK book 1, but not as much as Rebel Spring and Gathering Darkness. Have you read this book? Leave me your review in the comments below so I can see what you thought of it! 🙂
(Fun fact–below we pasted the initial cover of ABOSAT! This was the cover used on the ARCs. Which cover do you prefer? We like the official one!)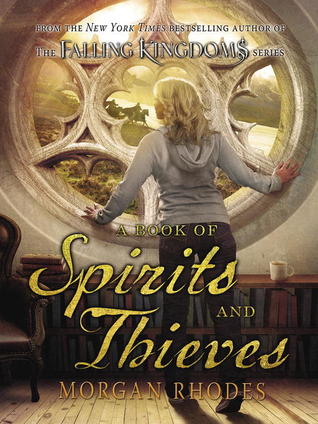 -S&S