Hey guys! Welcome back to another round of The Book Bratz's awesome Summer Blogger Promo Tour! Today we're featuring the hosts/creators of the tour itself–Amber and Jessica! (Hooray for co-bloggers!!) Here they are! 😀
---
Hi there, everyone! We're Amber and Jessica, the co-bloggers over at
The Book Bratz
 – and the hosts of the 2015 Summer Blogger Promo Tour! Sarena and Sasha were super awesome by opening up their blog to us today for a fun guest post –
The Life of a Book Blogger – in GIF form!
So sit back, relax, and laugh about how many relatable things we bring up in this post – and comment down below if you think there's anything we left out!
The Life of a Book Blogger – As Told by GIFS
1. When somebody asks you to explain what book blogging is:
2. When you get a new ARC to review in the mail!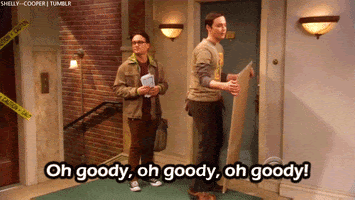 3. When you're sitting in class the next morning after staying up all night finishing reviews:
4. When you have all of your posts scheduled and completed for the remainder of the month:
5. When you meet tons of your internet book blogger friends in person!

6. When you request too many review copies 
7. When other bloggers ask you challenging questions in interviews 
8. Blogging as a whole
So, that's all we have to say about being bloggers, telling you in GIF form! Like we said earlier, if you think there's anything we left out, comment down below. We'd like to thank Sarena and Sasha for having us drop in today, and we hope that you enjoy the rest of the Summer Blogger Promo Tour! Check back every Sunday all summer long to meet a whole bunch of new bloggers, and also drop in at The Book Bratz and say hi sometime – we'd love to have you. 🙂
---
Thanks, Amber and Jessica! The next SBPT post will be August 9, 2015. 🙂
-S&S