Hey, all! Today I (Sasha) will be reviewing a YA horror novel titled THE MERCILESS. It released in June 2014, and I've been wanting to read it ever since! FINALLY I have, and let me say … this book was all kinds of crazy (in the best of ways). Let's take a look at the synopsis on Goodreads:
---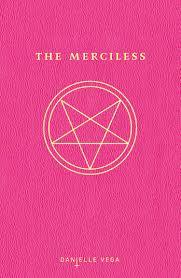 Forgive us, Father, for we have sinned
Brooklyn Stevens sits in a pool of her own blood, tied up and gagged. No one outside of these dank basement walls knows she's here. No one can hear her scream.
Sofia Flores knows she shouldn't have gotten involved. When she befriended Riley, Grace, and Alexis on her first day at school, she admired them, with their perfect hair and their good-girl ways. They said they wanted to save Brooklyn. They wanted to help her. Sofia didn't realize they believed Brooklyn was possessed.
Now, Riley and the girls are performing an exorcism on Brooklyn—but their idea of an exorcism is closer to torture than salvation. All Sofia wants is to get out of this house. But there is no way out. Sofia can't go against the other girls . . . unless she wants to be next. . . .
In this chilling debut, Danielle Vega delivers blood-curdling suspense and terror on every page. By the shockingly twisted end, readers will be faced with the most haunting question of all: Is there evil in all of us?
---
First of all, let's talk about this gorgeous, dust-jacket-less book. It was such an intriguing way to market the book! Good job, cover designers!
Now, let's go through character by character, because let's just say, they're all really interesting.
First, Sofia: She's the new kid, and she just wants to fit in. So when she comes to the new school and meets Brooklyn, she finally thinks she's made a new friend.
But then, Riley comes along. Riley's the leader of the popular crew, and she's SUPER RELIGIOUS. She takes Sofia into her popular group, which consists of Grace and Alexis, her two long-time (ish) friends who keep secrets of their own.
Of course, things get a heck of a lot more complicated when Sofia learns that Riley and her crew believe Brooklyn has evil within her. And … stuff gets freaky from there, because Riley decides to perform an exorcism on Brooklyn.
This book is all kinds of scary. I (surprisingly) didn't have any nightmares about it when I slept in the wee hours of the morning, but it was still pretty gruesome and, as the book states, FOR MATURE AUDIENCES ONLY.
The ending was super twisted. We learn a lot about the main characters, and some of it isn't all that pretty. If you're squeamish about blood/gruesome stuff, I would say don't read this book. HOWEVER, I myself am not a horror fan, even though I'm interested in horror books, and I still thought this book was awesome. So I'd say give it a try–you might just like it!
There were a couple of things I predicted, but the stuff I didn't predict outweighed them. It was a really gripping read–as soon as I told myself "I'll stop at the end of this chapter," I'd read the last line of the chapter and just couldn't stop! (Most of this book takes place all in one night, so it felt like a non-stop rollercoaster.)
Overall, a super entertaining read. I read pretty much all of it in one sitting. But if you don't like books that have to do with religion/Christianity, then this book is definitely not for you. Pick this up if you're a fan of PRETTY LITTLE LIARS by Sara Shepard or DANGEROUS GIRLS by Abigail Haas.
I rated it 4.5*.
-S&S