Welcome back! Today I (Sasha) will be reviewing THE WINNER'S CRIME by Marie Rutkoski, the sequel to THE WINNER'S CURSE, which I reviewed on Goodreads last year. Here's the cover and (spoiler-filled) synopsis for book 2:
---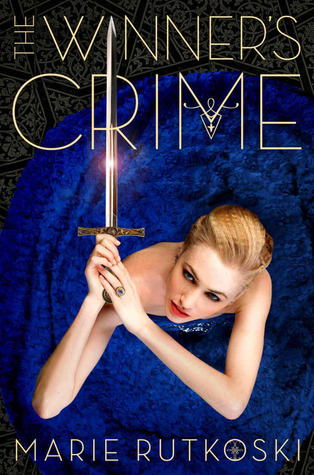 Book two of the dazzling Winner's Trilogy is a fight to the death as Kestrel risks betrayal of country for love.
The engagement of Lady Kestrel to Valoria's crown prince means one celebration after another. But to Kestrel it means living in a cage of her own making. As the wedding approaches, she aches to tell Arin the truth about her engagement… if she could only trust him. Yet can she even trust herself? For—unknown to Arin—Kestrel is becoming a skilled practitioner of deceit: an anonymous spy passing information to Herran, and close to uncovering a shocking secret.
As Arin enlists dangerous allies in the struggle to keep his country's freedom, he can't fight the suspicion that Kestrel knows more than she shows. In the end, it might not be a dagger in the dark that cuts him open, but the truth. And when that happens, Kestrel and Arin learn just how much their crimes will cost them.
---
Okay, so this book was gooooooood. I've gotta say, my favourite moments were when Arin and Kestrel were together. I totally did not ship them in book one (till the ending). Now, all I want is for them to be together! PLEASE, MARIE RUTKOSKI, with cherries on top?
But I gotta say, their relationship was ANGSTY. (In the best of ways.) There wasn't so much romance that you felt annoyed, and YET … I want more!
Romance aside, this book really picks up on the political side of things. I like how the Dacrans were introduced–that was pretty interesting. ALSO, the map. I liked it. The Bite and Sting tiles were a cool addition. The map wasn't TOO detailed, though, which can be good, as it won't make readers confused.
However … like the last book, I found myself skimming, wanting to read faster. The writing was gorgeous, but some of the events didn't enthrall me. In the first book, I found the middle to be boring. In this one, I think the less-interesting parts were scattered, more so in the beginning, and some toward the end.
But the last few pages were real page-turners! WOW. I cannot believe that ending! There were some shocking things that happened in this book, too, and even though I half-guessed one of them PAGES before it happened, I'm still in shock. Great job, Rutkoski.
Overall, another enticing, interesting high fantasy (minus the magic) read. Most people seem to enjoy this series, so I still definitely recommend it. I rated it a 4/5 stars on Goodreads!
-S&S