Hey, everyone! Today we'll be doing a review for The Heir by Kiera Cass. This book was released on May 5th, 2015. It's been getting tons of buzz and mixed reviews–but since we read and liked the Selection series, we were interested in picking this one up and giving it a read! Here's the cover and synopsis from Goodreads (spoilers for the Selection series ahead!):
---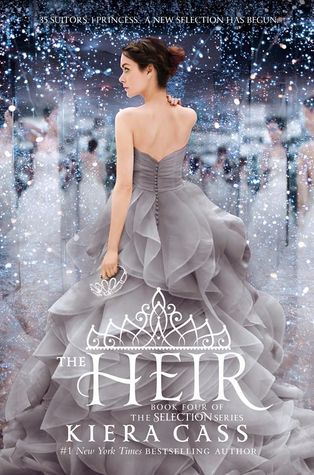 Princess Eadlyn has grown up hearing endless stories about how her mother and father met. Twenty years ago, America Singer entered the Selection and won the heart of Prince Maxon—and they lived happily ever after. Eadlyn has always found their fairy-tale story romantic, but she has no interest in trying to repeat it. If it were up to her, she'd put off marriage for as long as possible.
But a princess's life is never entirely her own, and Eadlyn can't escape her very own Selection—no matter how fervently she protests.
Eadlyn doesn't expect her story to end in romance. But as the competition begins, one entry may just capture Eadlyn's heart, showing her all the possibilities that lie in front of her . . . and proving that finding her own happily ever after isn't as impossible as she's always thought.
---
First off, let's start with the cover. SO. PRETTY. This is definitely our favourite cover of all the books thus far!
Now, on to Eadlyn. She's a very spoiled character, which can often come off as annoying. But she definitely provided a new perspective to the Selection that none of us have seen (and is fittingly Bachelorette-esque … not that we watch the show). We really liked how we got to see from a girl's perspective, with her having to choose between thirty-five men. She started off hating the idea of the Selection, but we were happy to see her warm up to the Selected boys over the course of the book. She definitely had a character arc, which we were really excited to see. She was a dynamic main character, and despite her flaws, she was able to find some possible true love interests by the end of the book! (Not telling who!) 😉
Obviously, being big book nerds, we both loved Kile. (Ahh, Kile.) We don't know why they were so opposed to each other, but when they began talking, we loved their relationship! We are definitely hoping Kile wins this Selection!
Another part we loved in the book was the cooking scene, because we LOVE food and being in the kitchen. Henri was just awesome! We love how dedicated he is to the Selection and Eadlyn, despite his difficulty speaking English.
Some other interesting Selected contenders include Hale, Ean, etc!
Finally–that ending. Whoa! Major cliffhanger there. We definitely loved the twist at the end and are really looking forward to the final book!
Overall: good story, a few interesting Selected boys, and a solid character arc, despite Eadlyn's spoiled/annoying tone at the start.
Rating: 4 stars
---
-S&S