Hey, everyone. Today I (Sasha) will doing a non-spoiler review for the third book in the Falling Kingdoms series, called Gathering Darkness! I absolutely loved this book–it's the best in the series thus far! Without further ado, here's the synopsis (spoilers for books 1 and 2!) from Goodreads:
---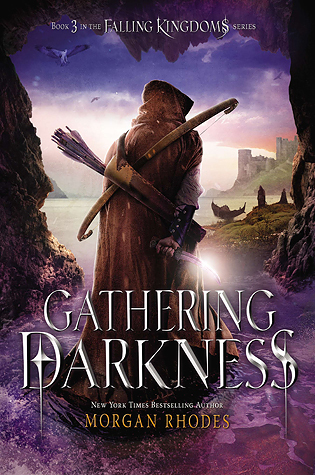 In GATHERING DARKNESS, book three of the New York Times bestselling Falling Kingdoms series, the stakes have never been higher as three teams push forward on a race to find the Kindred, the four elemental crystals possessing ancient all-powerful magic, first:
Prince Magnus has just witnessed torture, death, and miracles during the bloody confrontation that decimated the rebel forces. Now he must choose between family and justice as his father, the cruel King Gaius, sets out to conquer all of Mytica. All Gaius needs now are the Kindred – the four elemental crystals that give godlike powers to their owner. But the King of Blood is not the only one hunting for this ancient, storied magic…
• THE KRAESHIANS join the hunt. Ashur and Amara, the royal siblings from the wealthy kingdom across the Silver Sea, charm and manipulate their way to the Kindred, proving to be more ruthless than perhaps even the King of Blood himself.
• THE REBELS forge ahead. Princess Cleo and vengeful Jonas lead them, slaying with sweetness, skill, and a secret that can control Lucia's overpowering magic – all so they can use the Kindred to win back their fallen kingdoms.
• THE WATCHERS follow Melenia out of the Sanctuary. They ally in the flesh with King Gaius, who vows to use Lucia's powers to unveil the Kindred.
The only certainty in the dark times is that whoever finds the magic first will control the fate of Mytica… but fate can be fickle when magic is involved.
---
Oh my goodness. This book was just … wow. I think it highly exceeded the first two–it was just full of action and romance! Amazing! Let's go character by character (as in my previous reviews for Falling Kingdoms and Rebel Spring).
First, CLEO: I LOVE CLEO. She is one of my new favourite characters. I just feel like she's grown so much, and by the end of this book, she grew a lot tougher and stronger. I also like how even in the face of death, she doesn't lose her snarky personality. I really liked her A LOT. And let's just say I ship a certain character with her (won't say who because SPOILERS) but man, the character development was real.
Second, MAGNUS: I. LOVE. MAGNUS. TOO. Like, seriously? Did I mention how much I despised him in Rebel Spring up until the last third of the book? I think–no, I know–he's my favourite character in the series now.
Third, JONAS: Jonas … has not been as interesting as he once was. Don't get me wrong, I still like his chapters, especially with characters like Lysandra and Felix, but I don't feel as strongly about him as I did in Falling Kingdoms. He's no longer one of my favourite characters in the series, though I'm still looking forward to what will happen to him in future books.
Finally, LUCIA: I think I always put Lucia last because she's my least favourite (and still is). But the end of the novel made her character really exciting, actually. I feel like she's growing and learning a lot about her magic. (Lucia's also on the cover of the fourth book, Frozen Tides!)
Now, I want to talk more about some more minor characters who became more prevalent in this book. First, NIC. Nic is just so funny and I really enjoyed his chapters. Especially when he was with a certain someone. Won't say who! Second, THE KRAESHIANS. Prince Ashur and Princess Amara were very intriguing characters for different reasons. They were just super interesting! I like how we're getting characters from a whole other land. Hopefully we'll have a map of Kraeshia in the next installment! And finally, THE WATCHERS. Specifically, Alexius. I loved learning more about the Watchers and their ties to the mortal world. It was so cool learning more about the Kindred and how everyone is searching for these magical crystals. The plot really thickened and everything came down to it in the last 100 pages.
Overall, this book was mind-blowing. But it's not like us readers didn't escape it without a few fictional deaths. I don't think I ever whisper-yelled the word "No" as many times as I did at a book when a certain character died toward the end … the struggle.
I rated this book a 5/5 stars. I'm super excited to get a signed copy of A BOOK OF SPIRITS AND THIEVES, the first book in her new spinoff trilogy, at Morgan Rhodes's signing/launch party next week!
-S&S