Hey all! Today I (Sasha) will be reviewing FALLING KINGDOMS by Morgan Rhodes. I just read this book this week and I thought it was GREAT! I want to share all of its awesomeness with you all, and hopefully you'll pick it up yourself if you haven't already! First, here's the synopsis from Goodreads:
---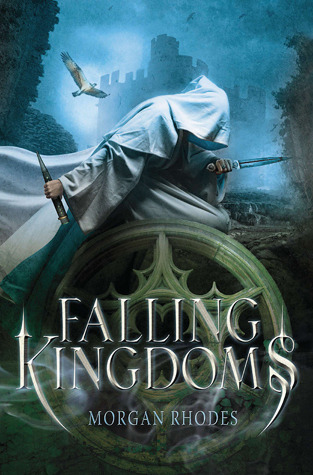 In the three kingdoms of Mytica, magic has long been forgotten. And while hard-won peace has reigned for centuries, a deadly unrest now simmers below the surface.
As the rulers of each kingdom grapple for power, the lives of their subjects are brutally transformed… and four key players, royals and rebels alike, find their fates forever intertwined. Cleo, Jonas, Lucia, and Magnus are caught in a dizzying world of treacherous betrayals, shocking murders, secret alliances, and even unforeseen love.
The only outcome that's certain is that kingdoms will fall. Who will emerge triumphant when all they know has collapsed?
It's the eve of war…. Choose your side.
Princess: Raised in pampered luxury, Cleo must now embark on a rough and treacherous journey into enemy territory in search of magic long thought extinct.
Rebel: Jonas, enraged at injustice, lashes out against the forces of oppression that have kept his country cruelly impoverished. To his shock, he finds himself the leader of a people's revolution centuries in the making.
Sorceress: Lucia, adopted at birth into the royal family, discovers the truth about her past—and the supernatural legacy she is destined to wield.
Heir: Bred for aggression and trained to conquer, firstborn son Magnus begins to realise that the heart can be more lethal than the sword….
---
This book was just full of action, death, and political intrigue. I really enjoyed it from start to finish. I'd heard a few mixed things about it, but I still wanted to check it out from the library, so I did–and it was worth it! I wouldn't say this book was as strong as books I've read from other high fantasy authors, but it was still a strong first book in what will (hopefully) be an awesome series! Here's what I liked and didn't like about it:
When I opened the book and saw the map, I was … mildly disappointed. The map was just so small and didn't feature a lot of detail–I was afraid the world would be a bit of a disappointment too. But it wasn't! In each book, the maps grow more and more detailed (from what I've seen in Rebel Spring) so there is so much more world building to be done! And the world building in this book was still fantastic. I like how the author focused on explaining the three kingdoms through things like ancient legends–it made for a very interesting read. I never even felt bored reading about the world! It's so cool!
Now, at first, when I started the book, I'd heard it being compared to Throne of Glass and Game of Thrones. It's definitely not as good as either of those, but I think (after having read it) it lives up to the title of a YA Game of Thrones. Seriously. Don't fall in love with the side characters. There were probably more than ten named characters who died in this book, and I have to say I was quite surprised!
Though I didn't find anything to be mind-blowing, besides the hawks aspect of the book (you'll know what I'm talking about when you read it, or if you have already), it was still an enticing read. Now, let's talk about the characters!
First, Cleo. I wasn't a HUGE fan of her at first. I liked her, but I didn't love her. I still don't think I totally love her as much as characters like Celaena Sardothien, but she's making her way there. She went through so much turmoil in this book, and I feel like her character has grown so much. And this is going to be a six-book series, so I'm sure there's room for tons of character development!
Next, Jonas. Jonas was probably my favourite character. I think my top two are wavering between him and Cleo. Now that I've finished it, I think Cleo's my favourite character, but Jonas was equally awesome too! I like where his story arc landed by the end of the novel, and I can't wait to see more from him!
MAGNUS. Magnus, Magnus, Magnus. I felt pretty bad for him. He wasn't my favourite in the beginning, then I started to like him a lot more in the middle, and then the end… His character changed so much. He really went on a perilous journey throughout this novel, but by the end of it I'm not sure I 100% stand by his decisions. We'll just have to see how much I like him in the sequel!
And finally, Lucia. I'd say Lucia is my least favourite character. We barely even get much from her perspective, so I don't think I can fully connect to her, and yet I think she's one of the most important characters in the novel! She supposedly is a sorceress, someone who can wield magic. This comes to be very important in the rest of the novel.
Overall, I really like how the characters came together–it was done in a very interesting way! I'm hopping onto Rebel Spring asap, and I hear this one is AMAZING. I hope so!
Have you read this book? If you have and have reviewed it, leave a link below so I can check it out!
Overall, I rated this book a 4/5*.
Until next time,
-S&S