Hey, everyone! It's time for another review. I'm sure you've seen this book floating around the internet: MISS PEREGRINE'S HOME FOR PECULIAR CHILDREN by Ransom Riggs. Let's just call it Miss P for short. If you haven't read Miss P yet–which neither of us had until last week–you must. (We're pretty late to the party, considering this is going to be a movie next year and it'll be directed by Tim Burton. We're trying to contain our excitement!) Now, this book's cover might be positively creepy but this book is NOT horror. In fact, it's fantasy. And a good one at that. Let's take a look at the synopsis from Goodreads:
---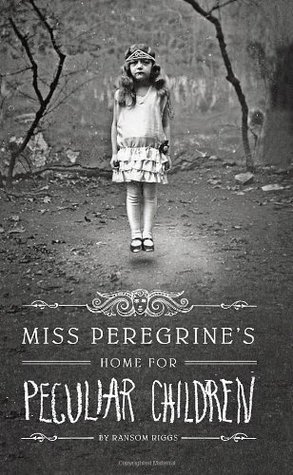 A mysterious island. An abandoned orphanage. A strange collection of curious photographs.
A horrific family tragedy sets sixteen-year-old Jacob journeying to a remote island off the coast of Wales, where he discovers the crumbling ruins of Miss Peregrine's Home for Peculiar Children. As Jacob explores its abandoned bedrooms and hallways, it becomes clear that the children were more than just peculiar. They may have been dangerous. They may have been quarantined on a deserted island for good reason. And somehow—impossible though it seems—they may still be alive.
A spine-tingling fantasy illustrated with haunting vintage photography.
---
Doesn't it sound awesome? Surprisingly enough, even with the creepy cover, this book was just packed with humour! The main character, Jacob, was a hilarious narrator and someone who we could sympathize with. The story took so many epic turns, and even though it wasn't the most fast-paced narrative, it wasn't necessarily slow either. It was intriguing enough that the reader wanted to continue the story–and we did. And might we add, there are some awesome plot twists and a cute, budding romance.
If you didn't know, this book contains REAL vintage photography. Some pictures were slightly modified, but they add to the story so well. Every time the main character sees a photo, the reader can see it too. It was quite helpful when it came time to descriptions of people. Here's a small sample of photos from the book:
Yeah, we chose some creepy ones. But these are some of our favourites! The pictures were just so intriguing and worked beautifully with the story. We know, there are lots of mixed reviews on how well the text blended with the pictures, but we both agreed this was a 5* read. We're so excited to move on to the sequel, HOLLOW CITY, before the last book, LIBRARY OF SOULS releases this September! Wow, there's a lot to look forward to!
Until next time,
---
-S&S