Hello, all! Since we've both recently finished the BURN FOR BURN trilogy by Jenny Han and Siobhan Vivian, we wanted to write up a review for it! We both enjoyed this series so much! Sarena read all the books within the last month, but I (Sasha) started the trilogy way back in December 2013. Either way, this series was an awesome contemporary revenge story with a hint of paranormal sprinkled in. But don't worry, it totally works! Here's a short synopsis for the first book off Goodreads:
---
Postcard-perfect Jar Island is the kind of place where nobody locks their doors at night, where parents can sleep easy, knowing their daughters are tucked away safe and sound in their beds.
But bad things can happen, even to good girls, and sometimes the only way to make things right is do something wrong.
Lillia used to trust boys, but not anymore. Not after what happened this summer. And she'll be damned if she lets the same thing happen to her little sister.
Kat is through with being called a freak. She's over the rumors, the insults, the cruel jokes made at her expense. It all goes back to one person – her ex-best friend – and Kat's ready to make her pay.
Four years ago, Mary left Jar Island because of a boy. But she's not the same girl anymore. Now that she's back, he's gonna be in trouble . . . 'cause she's coming for him.
Three very different girls who want the same thing: sweet revenge. And they won't stop until they've each had a taste.
---
Sounds good, right? Well, we both agree the second book, FIRE WITH FIRE, is our favourite of the series. These books are perfect for fans of PLL and contemporary/drama fans! Now, BURN FOR BURN was a very good series opener because we felt the characters were all either relatable and/or interesting. Specifically, our favourites were Kat and Lillia. Mary laid low for a while, but she had some dark secrets, and when they were revealed… let's just say neither of us could believe it.
Something else we really liked about the series was its diversity. Lillia is a POC character (featured on the far right of the cover). It was great to see diversity in YA!
We also really loved how all the characters were interconnected. One person's best friend was another's ex-best friend, and so on. They all somehow knew each other in different ways, and since the narrative is told in rotating perspectives, you could see how they were all interrelated!
The last book in the series was, unfortunately, not something either of us necessarily LOVED, but we still really enjoyed the ending of the series even if the end of the last book felt a little rushed. We just didn't necessarily love the way Mary was acting in this book. Usually, every Jenny Han book only takes me one day to read. But this book took me around four days. ASHES TO ASHES just didn't live up to the first or second book, in my opinion. And also, THE COVER CHANGE! Gah. That was… annoying, to say the least.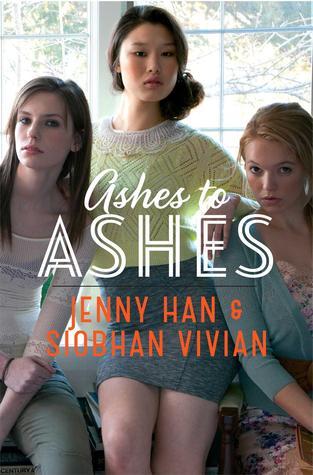 Again, this series is perfect for fans of PLL, The Lying Game, etc (pretty much any Sara Shepard book). Overall we rate this series 4.5/5 stars.
---
-S&S