Today we're reviewing a YA novel that is huge in the book world! AN EMBER IN THE ASHES by Sabaa Tahir is an epic fantasy novel in a Rome-like world that truly delivers on its premise. Here's the cover and synopsis: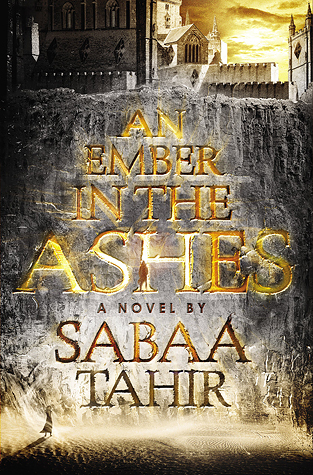 Set in a terrifyingly brutal Rome-like world, An Ember in the Ashes is an epic fantasy debut about an orphan fighting for her family and a soldier fighting for his freedom. It's a story that's literally burning to be told.
LAIA is a Scholar living under the iron-fisted rule of the Martial Empire. When her brother is arrested for treason, Laia goes undercover as a slave at the empire's greatest military academy in exchange for assistance from rebel Scholars who claim that they will help to save her brother from execution.
ELIAS is the academy's finest soldier—and secretly, its most unwilling. Elias is considering deserting the military, but before he can, he's ordered to participate in a ruthless contest to choose the next Martial emperor.
When Laia and Elias's paths cross at the academy, they find that their destinies are more intertwined than either could have imagined and that their choices will change the future of the empire itself.
---
We've shared our excitement for this book in the past and were so excited to receive the ARC from Indigo!
This book certainly delivered in terms of worldbuilding and writing. I felt completely immersed in the Rome-like world. Everything from the Auguries to the ancient buildings had me convinced. I was automatically pulled into Laia's story and couldn't believe that the action almost never stopped! (For those few moments it did, I didn't feel at all pulled from the world. My suspension of disbelief was entirely there!)
Elias's motives were also very clear and understandable. The Commandant is scary, and I felt the story needed that central villainous character. I was so excited to see twin characters, though Marcus was downright rude. I was happy that everyone at Blackcliff seemed to live up to the Mask-like, violent character. (The idea of the Masks were also one of my favourite things in the story!)
When Laia and Elias's paths finally crossed, I was ecstatic. Every chapter ended on a cliffhanger, and I simply couldn't put the book down. I was absorbed in every aspect of the story. I'm not sure I have a lot to critique, because it was an automatic five star read for me. It deserves to be read, and certainly deserves the hype. This book is almost certain to be a movie (rights were bought by Paramount).
I'm so happy to see an epic, diverse read by a diverse author. #WNDB is a great movement, and a great place to share diverse books. Definitely pick this book up when it releases April 28!
Rating: 5*
---
-S&S