Hey everyone! Today I (Sasha) will be posting a non-spoiler review of the DAUGHTER OF SMOKE AND BONE Trilogy by Laini Taylor. If you haven't started this series yet… Well, let me just say it's my favourite trilogy EVER. (Not series though–that still goes to Harry Potter.) It's THAT good.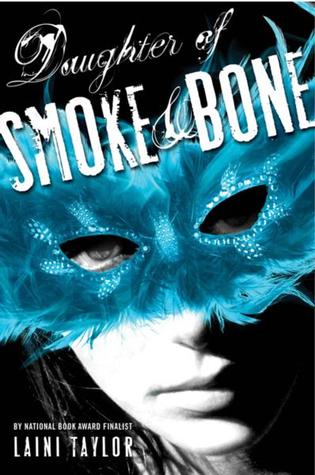 If we were to explain what this series is about, it'd be really complicated. It's so much more than 'a series about angels.' It's full of intricacies and twists and turns–it's good to go into this series not knowing much. Even if you don't read high fantasy, I'd still say to give this a try. Honestly, I hadn't read much high fantasy–unless you count the hundred or so pages I'd read of THE FELLOWSHIP OF THE RING. (Which was really good–I still need to finish it. Oh well.)
Anyway, to give you an idea, Daughter of Smoke and Bone centres on a teen girl named Karou who's always lived with blue hair and weird eye tattoos on her hands. She's used to running errands and drawing in her sketchbook–it's her regular life in Prague (as "regular" as that description can get, anyway). Meanwhile, hand prints have been appearing on doors all around, left by winged creatures. I won't say what this means, exactly. You're going to have to figure that out for yourself.
All I can say it that this series gets better and better. The first book slowly unravels the mysteries surrounding the main character, and in the second (which you should definitely read right afterward the first with that cliffhanger), the reader is plunged into an even more intricate story and world. Seriously, these books are amazing. And not just because the plot–a HUGE driving force to the story is the WRITING. Laini Taylor is a YA writing goddess. I don't know how she does it, but these books contain the best writing I've ever encountered in all of YA, and then some.
Another element of the story that I loved was the worldliness of the books. The characters travelled from Morocco, to Africa, and everywhere in between! The final book, Dreams of Gods and Monsters, is full of rich descriptions of different lands–and might I add, awesome new characters. The books jump between perspectives (as it is told in third person)–but the focus is mostly on Karou. In each book, though, we get some more insight into different characters.
Overall, we ADORE this series, and even though Sarena hasn't even read the last book, it's her favourite trilogy too. This series is so intriguing and unique. GO READ THIS FANTASY AWESOMENESS!
Rating: 5/5 stars (for each book)
Hope you enjoyed this review and we'll have another review post up next week! Until then,
-S&S