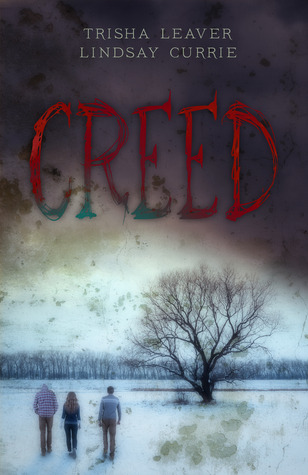 When I first got CREED with a whole bunch of awesome swag (from a giveaway), I was so excited. And honestly, I wasn't sure what to expect. I read the synopsis a few times, intrigued by the premise, and decided it was a quick read for a Friday night. Little did I know it would be a superbly chilling read, too!
Here's the synopsis:
Three went in. Three came out. None even a shadow of who they once were.
When their car breaks down, Dee, her boyfriend Luke, and his brother Mike walk through a winter storm to take refuge in a nearby town called Purity Springs. When they arrive, the emergency sirens are blaring and the small farming town seems abandoned. With no other shelter, they spend the night in an empty house.
But they soon discover that not everything in Purity Springs is as it seems. When the town's inhabitants suddenly appear the next morning, Dee, Luke, and Mike find themselves at the mercy of the charismatic leader, Elijah Hawkins, who plans to make Dee his new wife. Elijah's son, Joseph, offers to help them escape . . . but the price of his help may be more than Dee and her friends can bear.
---
Here's my NON-SPOILER REVIEW:
The title says it all. CREED deals with a strange town of strange religious practices, which our three characters stumble upon. I always wondered about the tagline of the synopsis while reading: Three went in. Three came out.
But which three?
I'm not a big horror junkie, in books or movies (though I love thrillers/suspense). But now i'm in the mood for ALL horror! There were so many twists and points in the novel where I wanted to scream out of terror, or maybe just scream at the characters' naivety. It was definitely a thrill ride.
There was one thing I wasn't totally happy about–the ending. It was a little too quickly strung together, and I was hoping for a bit more resolution with the characters. For some, we don't know their fates. That was a little bit disappointing. The arc of the novel itself was well-paced and the atmosphere was very intriguing. I loved the writing, which flowed pretty well despite two authors jointly writing one novel. (I know how co-authoring feels!)
Overall, I was really pleased (or rather scared) by the novel. I'm so glad I picked this up and nearly devoured it in one sitting! 😀
Rating: 4.5 stars.
-Sarena